Burton Albion 0-1 Wolves
By Tom Bason
July 18 2015
In the fifth most important sporting event of the weekend*, Wolves won its pre-season game 1-0 at Burton Albion, thanks to a 10th minute goal from Nouha Dicko.
- There was just one new face on show for Wolves today, with Connor Coady slotting into the central midfield area alongside Lee Evans. With the midfield being the questionable area as to who is going to play, Tommy Rowe and Michael Jacobs got the nod on the flanks. The other places probably went to the players I'd expect to take them against Blackburn; Carl Ikeme was in goal, Dominic Iorfa and Scott Golbourne played as the fullbacks, outside of Kortney Hause and Richard Stearman. Nouha Dicko was the lone runner upfront, with Benik Afobe playing just off him, in what is probably best described as 4-4-1-1 formation.
- Perhaps the most interesting thing about the team is in who didn't play, with Kevin McDonald and James Henry left out of the match day squads completely. If Henry wants to leave, I wouldn't have a problem. He's a useful squad player, but I don't think he's anything more than that at this level. His main attributes are a knack for gliding past defenders, and a habit of scoring important goals, but he can spent too long on the periphery of games, doesn't have the pace to get away from defenders once he's beaten them and is a woeful crosser of the ball. Kevin McDonald, on the other hand, I would not be pleased to see go. I still think he's the heartbeat of the team, and he would be in my starting XI every week. We don't know what's happening behind closed doors, but I hope his contract situation can be sorted pretty quickly.
- So, onto the game. I typically dislike the return of football disrupting the other sports, and I must admit that most of my concentration today was at The Queen's Club and Lord's, in a day of varying success. So, this might not be the most detailed of match reports, but there were two things that stood out, both around the midfield area. We nominally played Tommy Rowe and Michael Jacobs on the flanks, but neither played there a huge amount. Rowe was slightly more disciplined, but Jacobs has a tendency to go wandering. On at least two occasions in the first half, they were within 20 yards of each other, near the centre circle (the photo below is the second time this happened). This meant we were reliant on Golbourne and Iorfa to get forward and give us width. I've often said that Golbourne isn't the sort of fullback who will create anything himself, but relies on other players to get him in positions. But with Evans not really getting into the game, we struggled to find Golbourne in the wide positions. And on the other flank, I suspect that Iorfa is going to frustrate the hell out of me going forward. At the moment his signature move is to run at the defender, try and twist him inside and out, lose control of his feet, lose the ball, give away a foul trying to win it back. Think back to the last time we got promoted from this division, when the width provided by Michael Kightly and Matt Jarvis was oh so important. I don't see us having anything like that this year.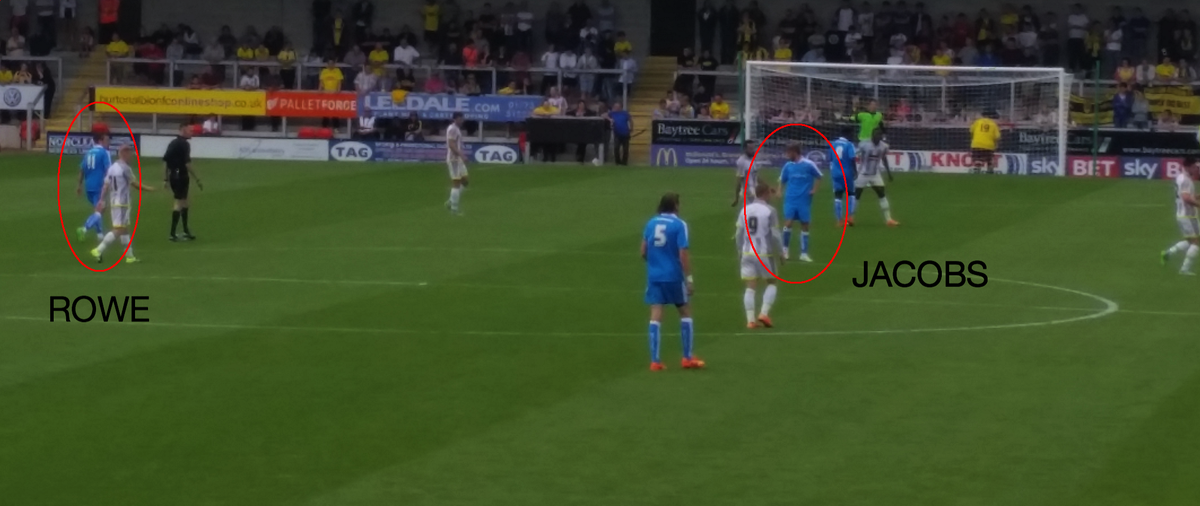 - And the second thing; firstly, I need to hold my hands up and say I know virtually nothing about Connor Coady. I'd been under the impression that he's a defensive style midfielder, brought in to be the muscle alongside our more technical players, so I was slightly worried by the amount of space afforded to Burton's attacking midfielders through the middle of the pitch. They didn't attack down the flanks a huge amount, instead trying to go through the middle, and there was the usual gaping space between our midfield and defence. Burton almost took the lead early on when a midfielder had too much space outside the area, and hit a shot that Ikeme should have held, but instead spilled, and was fortunate to see the rebound hit the post. Time and time again, Burton had men receiving the ball in space in front of the defence – a through ball in the first half from this position should have led to an equaliser, but Iorfa did well to get back put the striker off. I thought that Coady did reasonably well in what he did, albeit losing the ball poorly on quite a few occasions, but I'm slightly more worried by what he didn't do.
- Finally, a couple of points on individual players. I thought Richard Stearman was poor, diving into tackles when he didn't need to and going on those crazy runs that give me a heart attack. I didn't think that Stearman was a deserving player of the season last year; between Christmas and Easter, he was superb, but outside of that, I thought he was average at best. Benik Afobe had a good game, often coming very deep to collect the ball and running at the Burton defence who were scared of him. The goal that Dicko scored, courtesy of an Afobe through ball was hopefully a sign of things to come. Two youngsters came on in the second half; Connor Ronan for Lee Evans (resulting in our two central midfielders having the same first name), and Bright Enobakhare for Dicko. Both did reasonably well, although I'd have liked to see Ronan in a position slightly further forward. One pass out wide to Jacobs was excellent – I don't know how a 17 can kick the ball that far. Enobakhare did well, running directly at Burton's defence who didn't know how to deal with him, although he needs to learn when to release the ball and when to hold it.
*Obviously, the Davis Cup, the Ashes, the Open and Worcestershire beating Derbyshire in the T20 last night take precedence.