Wolves Hunt Pitch Invaders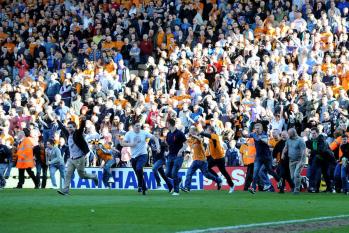 Fans Invade Pitch
By Badge32
April 25 2014
Four pitch invasions which have left Wolves facing an FA probe 'marred a wonderful game and a marvellous occasion', Moxey said today. Wolves are looking at CCTV images to spot those who ran on to the pitch four times during the club's Game against Rotherham.
The FA is still looking into the referee's report after the game, which finished 6-4. Depending on its findings and any explanation from Wolves, the FA could fine and issue a warning on future conduct.
Moxey today said: "We will be – and we are already – viewing CCTV footage to try to identify people who put us in that situation and we'll deal with them accordingly, which could well be indefinite bans.
We'll deal with the FA inquiry properly and we'll give them the truth and tell them what happened.
But what was genuinely concerning was the announcement that the referee was considering abandoning the match if another pitch invasion was to take place. Our fans ought to know that because if they run onto the pitch during a game, they're committing a criminal offence.
"We understand the exuberant nature of the occasion but it marred what was a wonderful game and a marvellous occasion."
The majority of fans at the game – which attracted the biggest ever crowd since 1981 – booed the actions of the minority and some took to social media to support the club's condemnations of the invasions.
Wolves fans invaded the pitch at the final home game against Burnley last April, and also after winning promotion against QPR and at Barnsley after winning the Championship title, both in April 2009.
"When you have significant events, like winning promotion or getting relegated, fans often show their feelings," said Mr Moxey.
And that can manifest itself in pitch invasions.
It's understandable when a team wins something and virtually every team does it – look at the scenes at Burnley and Brentford over the last few days. But when people are coming on the pitch and there's two minutes to play (as on Friday), that's just unacceptable.
It was the one disappointment of this final part of the season. It ruined it for those fans who stayed in the stands and also for our players to celebrate it properly."
Moxey also went on to say he believed the fans who ran on the pitch were not regular supporters. "When you get the capacity crowd – 30,110 – you get a lot of people who haven't been very often, but there's no excuse for the people who ran on the pitch after Michael Jacobs's shot hit the sidenetting - it was an embarrassment," he added.
So if you were one of those who went on the pitch, Beware, MOXEY'S COMING TO GET YOU!!!!!!!!!!!