O'Hara 'I Begged Jezz To Let Me Play'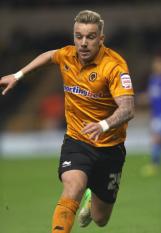 O'Hara Before His Exile
By Badge32
April 24 2014
Jamie O'Hara today broke his silence to insist he has never asked to be paid up and he claimed he isn't motivated by money.
Jez Moxey said yesterday that O'Hara – along with the eight senior players returning from loans – is likely to be moved on this summer o they face sitting in the stands. He also stated that no players will have their contracts paid up. O'Hara who had a trial at Blackpool is the only exile player that did not get to go out on loan.
The 27-year-old, who earns an estimated £20,000-a-week, underwent an intensive fitness regime in Los Angeles last month at his own expense after being accused of a lack of mobility by head coach Kenny Jackett.
Speaking on social media stream Instagram O'Hara said: "In light of the recent comments made in the press I feel I have to say something because I've never asked to be paid up.
"I'm not motivated by money, I'm motivated by trying to achieve things in my career.
O'Hara also stated "I took a 30 per cent wage cut from the Premier League and sacrificed all my appearance money this season in a bid to be involved.
"I've given 100 per cent every time I've been on the field even when I wasn't fit, so I'm disappointed to have to defend my attitude and commitment."
So far he has made two sub appearances this season for the first team and has scored three times in 10 games for the under 21's.
But he claims his attitude and commitment can't be faulted.
"I've never once said I don't want to play for Wolves and have played in almost every Under-21 game available," he said.
"I've not complained about being frozen out and my hunger for training is bigger now than ever.
"I've kept myself fit and I'm tired of people questioning my fitness and motivation, I begged Jez (Moxey) to let me play and I took it on the chin when they said 'no'.
"I never asked for a five-year contract but I made a commitment to Wolves, I moved my whole family away from London and bought a house here and put my kids in school.
"I congratulated everyone on winning promotion and I'm glad to see the club back on track."
Former Spurs and Portsmouth Midfielder O'Hara has two years left on his contract.