Wolves 2-3 Real Betis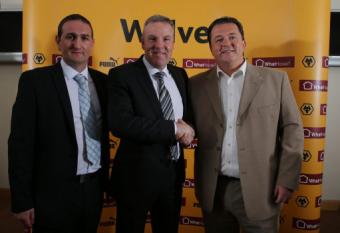 By Tom Bason
July 27 2013
Wolves today lost to Real Betis at Molineux. Wolves twice took the lead with goals from Richard Stearman and Leigh Griffiths, only to be pegged back by Salva Sevilla and Cedric Mabwati. It was to be Betis who snatched the winner, with Javier Matilla scoring in the 70th minute.
- With this being the final friendly before next week's curtain raiser at Preston North End, there is the obvious conclusion that today's starting XI will be near enough Kenny Jackett's preferred line-up. If so, the big decision appears to have been choosing Carl Ikeme over Wayne Hennessey in goal. Elsewhere, there was very little surprise. I assume that Tongo Doumbia's absence from the subs bench indicates injury rather exclusion, and so he could easily be selected ahead of Lee Evans next week. The starting line-up looks to have strength right through it, but with Stephen Ward, Jamie O'Hara and Roger Johnson not needed, the subs bench doesn't necessarily exude confidence. We all know about Kevin Foley and George Elokobi, but the others lack real experience, and little will be known as to how they would cope in playing a full season should a couple of first-teamers pick up injuries.

- I think I've only ever seen one Kenny Jackett team before, when Wolves hammered Millwall in the League Cup a couple of seasons ago, so I was really interested to see how we played today. We lined up in a 4-3-3 formation, with Björn Sigurðarson and Bakary Sako in wide positions and Leigh Griffiths through the middle. I think this is possibly Sigurðarson's most natural position, where he can use his pace to trouble the opposition, but without the defensive responsibilities that come with playing on the right side of midfield. In midfield was a trio of Dave Edwards, David Davis and Lee Price. This seemed to be quite fluid; generally Davis was the more defensive player, with Edwards looking to get forward, but equally they seemed able to switch positions. It will be interesting to see whether this becomes our stock formation, or one that we turn to when playing tricky games. It certainly gives us pace on the break, with Griffiths, Sako and Sigurðarson, while the three central midfielders give a touch more solidity than a standard 4-4-2.

- This was the first time I'd seen Evans, and after some positive reviews in other games, I was looking forward to it. He had some really nice touches, looking to play quick one-twos to get the ball moving. Equally, he put in a couple of hefty challenges, one of which I'm sure would have seen a yellow card had it been a competitive match. Whether he's ready to play week in week out for a full season, I'm unsure. He at times went for large periods without really touching the ball, although this could be more to do with Betis' quality in that area. Saying that, he grew into the game more in the second half, and played two quality long balls; both times pinging the ball out to Sako on the right wing. However, I'm not sure whether Davis is ready to be the senior partner in midfield. I get the feeling he will play better with a more experienced player alongside with him, whether that be Edwards, Doumbia or possibly Foley. I'd be surprised if we played 4-4-2 with Davis and Edwards in midfield too many times.

- In terms of style of play, there was a definite emphasis on keeping possession, and working the ball out wide for the wide men to attack their opposition. Ikeme chose to pass the ball out on virtually every occasion as the team looked to build from the back. There was quite a contrast between what Richard Stearman and Danny Batth then did with the ball; Stearman, playing as the left sided centre-back, looked to bring the ball out of defence on every occasion, at one point playing a nice one-two with Davis and driving forward into midfield. On the other hand, Batth's default ball appeared to be a long ball hit towards the right hand channel, either looking for Leigh Griffiths or Sigurðarson in the air. It was noticeable than at times we kept possession down one flank, before hitting a long pass to the opposite flank, where generally the man out there had time and space. Sigurðarson, Ricketts and Stearman all hit high quality long cross field passes after a period of possession down one wing.

- Wolves opened the scoring with a nice goal from a left wing corner. I'm sure that at some point during the season it'll start to annoy me that our main striker is taking corners and not getting in the box, but for now I'm happy with Griffiths' set piece delivery. This one was clipped into the near post, where Batth met it, about level with the penalty spot. Batth's header looped towards the far post, where Stearman was able to nod in easily. About ten minutes later, Wolves had another left wing corner. Again, Griffiths took it, but this time Batth made his way to the far post, meeting Griffiths' clipped corner. Although no goal was scored, it wouldn't surprise me see those two combining to contribute a fair few goals this season.

- Talking of Griffiths, I was generally impressed. For someone his size, he won't win many headers, but this should encourage a more passing style. His finish for the second goal was unerring, taking the shot early and leaving the Betis keeper no chance. I was impressed with some of his finishing in the warm-up; maybe it's because he's left-footed, but at times it reminded me a lot of Robbie Fowler, easily the best English finisher I've known in my lifetime. But Griffiths' play was much more than that - some of his link up play was also very good. Twice in the first half, the ball was played into him in our half with his back towards goal. On both occasions, one touch took a Betis defender out of the game and gave the onrushing Edwards the chance to break beyond the Betis defence.

- Betis' second and third goals were very poor from our point of view. On both occasions, our players had the ball but poor passes gave Betis clear opportunities to finish. The first was a loose ball from Davis back to Stearman, the second from new club captain Sam Ricketts with a pass that didn't really seem to be aimed at anyone. There are two ways of looking at this; the first is that they were sloppy goals to give away, and if we continue to give away goals like that it'll cost us over the season. The second is that apart from these very sloppy pieces of play, we generally looked decent at the back, and if these loose passes are cut out, we should have a strong base from which to build.

- There was a raft of substitutions in the last 15 minutes, not leaving much time for any of them to do much. Liam McAlinden ran about quite a lot, and set up Jake Cassidy for a chance he should have scored; George Elokobi varied from the sublime (great first touch and volleyed pass to Sako) to the ridiculous (passing the ball straight out of play); Kevin Foley was characteristically tidy, and Jack Price played two very nice passes out to Sako on the right wing.
- A quick word on Betis. They played the ball well, with Salva Sevilla (scorer of their first goal) being the pick. He was excellent, with a very good awareness of what was around him, quick feet and an ability to wriggle his way out of a tight situation. This was a good performance against a decent side, who finished 7th in La Liga last season. But, before we get too excited, we should note that they played Bolton Wanderers last night (winning 2-0), and I don't know enough about the Real Betis squad to know how strong a line-up today's was
View a Printer Friendly version of this Story.
Wolves 2-3 Real Betis
Wolves (IP Logged)
27/07/2013 17:55
What do you think? You can have your say by posting below.
If you do not already have an account
Click here to Register
.
Edited 1 time(s). Last edit at 2013:08:10:18:41:22 by toomb.
Sorry, only registered users may post in this forum.