Five Reasons to look Forward to the New Season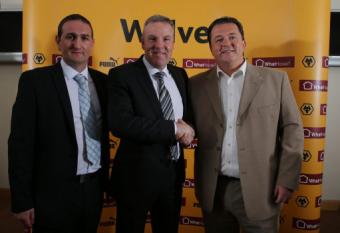 By Tom Bason
July 17 2013
A new Wolverhampton Wanderers
This summer is perhaps a watershed moment in Wolverhampton Wanderers, the most important summer in recent history since the last one. If nothing else, it will hopefully see a move away from the 3Ms that have dominated the past 5 years. With Mick McCarthy's time now separated by five managers, and in a different division, we can move on. This will be aided by the number of players departing, all of whom are so identifiable with McCarthy's time rise and decline at Wolves. Jackett's first task must surely to build a team in his image, something Ståle Solbakken was never quite able to do

The issue of player recruitment brings me on to the second M. It seems that Jez Moxey is taking a back seat in the footballing side of things, with Kevin Thelwell appearing to be the dominant force behind the scenes. I don't know enough about Thelwell to say whether this is a good move or not, but perhaps at this stage any change is a worth trying. Certainly, from a PR point of view, the idea that the men who appointed our last three managers are taking a step back is no bad thing.

While Steve Morgan and Jez Moxey will obviously still be large stakeholders in this coming season, it would not surprise me to see them less and less often. Gone is the era of the 3Ms, it's time for K&K to step up and change the club.
Recognition of the fans
Public Relations are something that desperately needs to be managed this summer. Not since fans accosted Sir Jack Hayward outside Molineux all those years ago has there been such a feeling of divorce between the club and its fans. I have renewed my season ticket for next season, but 100% understand all of those fans who have chosen to stay away. Jackett has already started to make waves in this aspect; an email from him went out to all season ticket holders, while a select group were able to meet him for a tour of the museum.
Similarly, there has recently been the announcement that nearly 500 season ticket holders (I assume 460; 20 for each home game) will have the opportunity to sit in an executive box for free over the course of the season. The cynic in me says that it's a box that wouldn't have been sold, and would otherwise have sat empty for the course of the season, but I think it's a step in the right direction. It's perhaps a sign that the club is recognising how much it's let the fans down over the past few seasons, and trying to make some sort of amends.
The blooding of youth
Considering the amount of Wolves youth team players who are plying their trade in the top two divisions of English football (plus the odd one abroad), the Wolves team has been lacking youth prospects over the past few seasons. David Davis is progressing nicely, and Matt Doherty was blooded towards the end of the season, but these seem more like outliers than the norm. But this season should be different. I already stated my case as to why I thought Danny Batth should be given the captaincy despite his tender years, but he should be targeting becoming Wolves first choice central defender over the next 12 months. Of the 23 players who have travelled to Scotland for pre-season, 13 of have either come through our youth system, or joined the club at a relatively young age. The likes of Doherty, Lee Evans, Jake Cassidy and Liam McAlinden should be looking to join Batth, Davis, and Wayne Hennessey in the first team squad, while everyone is hoping to finally get a proper look at Zele Ismail.
The Johnstone's Paint Trophy
Now, hear me out on this one. I know some Wolves fans think that it is a complete embarrassment that Wolves will be competing in this trophy, and refuse to acknowledge its existence. But, anyone under-30 has grown up on tales of taking 30,000+ to Wembley in 1988 for the Sherpa Van Trophy. For anyone who remembers it, was winning this an embarrassment? Remember, this was only eight years after we beat the European Champions in the League Cup Final.
Again, what are the chances of seeing Wolves in a final at Wembley again? Sure, you can point to the likes Birmingham City and Wigan Athletic who have won trophies in recent years, but there are other, bigger clubs who have got nowhere winning a cup. Perhaps for those of you who are old enough to remember the two League Cup victories, or even those magical years in the 1950s, the Johnstone's Paint Trophy is not even on your radar. But those of us who are too young to remember those nights (hell there will be Wolves fans who don't remember Cardiff in 2003), the JPT is the best opportunity we have of seeing Wolves win a trophy at Wembley.
New away trips
Is there anything better than seeing Wolves win away from home? Now, don't get me wrong, the trips to the big clubs while we were in the Premier League were enjoyable, but more often than not it was a long, disappointing journey home. But this season is different. So many of these grounds I've never been to – I can't wait to visit all four pubs at Griffin Park, and go to the likes of Boundary Park and the Broadfield Stadium for the first time. Similarly, I want to get reacquainted with grounds I've not seen for a while; Crewe has always been a favoured away trip for me, while there are so many games that are local(ish) – Coventry City (in Northampton), Notts County, Port Vale, Shrewsbury Town, and of course Walsall. Given how much of my geography comprehension comes from visits to football grounds, I am looking forward to expanding my knowledge of England and discovering where exactly places like 'Leyton', 'Stevenage' and 'MK' are…