Bye Bye Blakey (Blakey Goodbye)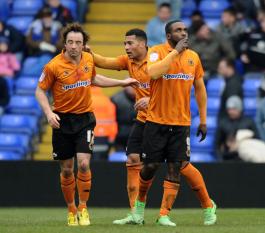 By Tom Bason
May 17 2013
For me, as someone young enough not to remember the dark days of the 1980s, the centre forward position at Wolves has had iconic status. Stephen George Bull is undoubtedly the finest player to where the famous Gold and Black in recent times; making up for what he perhaps lacked in technical ability through the sheer bloody mindedness that ensured the ball ended up in the back of the net. It was the lack of a midfield in behind Bull that sadly meant he never got to strut his stuff at the highest domestic level, despite having proved his value on a stage far greater than the Premier League could ever hope to be.
Despite being a generation or two behind Bull, Robbie Keane threatened to take over Bull's mantle but the lack of quality of the other players meant we were never likely to keep him for long. Since then, it's been a mixed back with numerous big money signings failing to live up to the expectations that their predecessors generated. 10 years ago, for once the other nine places of the team were sorted; the likes of Colin Cameron, Mark Kennedy, Alex Rae and Shaun Newton providing the sort of chances that Bull would have thrived on. But, the forwards were not good enough. Kenny Miller shone for half a season, while the efforts of Dean Sturridge, George Ndah and Nathan Blake were never going to be enough to secure a regular Premier League place.
But then, a new hero came along. Freddy Eastwood. Ah, I jest. After the disappointment of the lazy signing from Southend, Sylvan Ebanks-Blake was plucked from Ian Holloway's Plymouth side for what would turn out to be a bargain £1.5 million. Just to put his value into perspective, the likes of in addition to the aforementioned Miller, Blake and Eastwood, Ade Akinbiyi, Carl Cort, Tomasz Frankowski were all signed for similar amounts to solve that problem number 9 shirt.
And what an impact Ebanks-Blake made; being substituted after 52 minutes of his debut in a 3-0 defeat at Crystal Palance. But in his second game, a 2-0 win at Scunthorpe he struck, before crowning his Molineux debut with a last minute winner against a stubborn Sheffield Wednesday side. He would then go four games without a goal as the team struggled and he was paired upfront with Kevin Kyle, but that didn't matter as his goals earned four points from the next two games.
For the rest of the season he was flying, finishing the campaign with 23 League goals to earn him the Championship Golden Boot. 12 of those games came in his 20 Wolves' appearances, a fine return for a team who had scored just 24 goals in the 20 games before his arrival. Along the way. He picked up Championship Player of the Month for March, becoming the third newly signed Wolves striker to win the award in just over a year (any ideas who the other two were? One scored four in his first three games, won Player of the Month and never scored for the club again; the other scored three in four, won the award and didn't score another Wolves goal for 1408 days. Answers on a postcard…).
In his next season, Ebanks-Blake would again score 23 goals as Wolves won the Championship en route to promotion to the Premier League. Aged just 23 and with 27 goals in 61 League appearances for the club, Sylvan signed a new four year contract in preparation of taking the top flight by storm. Everything was set; I've had a flick through some of the old threads written during the summer of 2009, and everyone was so positive that the nearest I can find to a negative comment was that Ebanks-Blake would struggle early, but finish his maiden top-flight season with double figures.
Of course, we all know he didn't hit that 10 goal mark (and certainly didn't play his way into Fabio Capello's World Cup squad as some had mooted); in fact, he barely reached double figures for his entire time in the Premier League, scoring 10 goals in 76 appearances. I know a couple worried that he didn't contribute a huge amount to the team apart from goals, but I thought back to a 2-0 win against Burnley during the promotion season when he set up both Michael Kightly's goals and was absolutely superb.
For some reason, Sylvan didn't take to the Premier League. It probably didn't help that he played the first match of the season before picking up an injury, contributing to not scoring until late October; a late penalty against Aston Villa. But, he wouldn't score again until the end of the season in a 1-1 draw with Blackburn. The following match, away at Portsmouth saw him gain two or three golden chances to add to his tally but he couldn't put any of them away.
The following season was better, netting seven goals in his 11 starts albeit with a further 19 appearances off the bench. But, he didn't kick on in the next season, scoring just once as Wolves were pathetically relegated. 76 Premier League appearances, 10 goals. In comparison, his major competition for the starting line-up, Kevin Doyle and Stephen Fletcher scored 18 in 93 and 22 in 61 respectively.
So what went wrong? Well, for a start, for much of the Premier League, Wolves played with one upfront, a position Ebanks-Blake was blatantly not cut out for. Doyle, while not as clinical a finisher as Sylvan was far better suited to playing on his own. The old worries about Ebanks-Blake's contribution resurfaced. If he wasn't scoring goals, he wasn't worth his place in the team, and let's face it, he wasn't scoring goals.
The other problem was the distinct lack of partnership between Ebanks-Blake and Doyle, who despite having played together for four years often look like they've never seen each other before. This is probably mainly Doyle's fault; I can't think of any Wolves strikers who he has particularly gelled with, and is clearly a player who prefers taking the responsibility of ploughing a lone furrow.
Although, I would argue that Ebanks-Blake has never really struck up a partnership with anyone. If you asked most Wolves fans who the strike partnership was when Wolves were promoted, they would say Sylvan and Chris Iwelumo. But, in reality they only scored in the same game on four occasions, and for me, never actually played well together. In fact, Sylvan's true partner that season was the much maligned Andy Keogh, prepared to do Ebanks-Blake's running for him, which Sylvan snaffled up the chances that came his way.
Arguably Ebanks-Blakes best striker partner was Steven Fletcher, who again never really struck up a true partnership with Doyle. At times, the link up play between Fletcher and Ebanks-Blake was superb. Who knows what could have been had they had a decent midfield and defence behind them. Could they have developed that partnership over a longer period in the Premier League? I still doubt it, given the lack of quality in Ebanks-Blake's game.
It almost seems fitting that Sylvan's Wolves career finished where it was at its strongest, scoring goals in the Championship; his final act for the club being two goals against local rivals Birmingham City before being injured by serial thug Paul Robinson. Five goals in his last six Wolves appearances again leads to a 'what if?' question. Who knows where we would be had he stayed fit; we'd almost certainly have finished the season on more than 51 points.
I've generally been highly critical of Ebanks-Blake over the last three or four Wolves shirts, but his overall record of 61 goals in 123 starts is nothing to be sniffed out, and I won't be the only one who feels a pang of sadness when I next see his name flash up on screen, banging in goal after goal in the Championship.