First step to recovery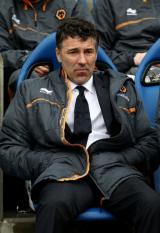 By Tom Bason
May 7 2013
If ever there was an owner whose stock has fallen (and I mean that both figuratively and literally) in the last two years, it is Steve Morgan.
Accused of a reluctance to put his hand in his pocket while in the Premier League, the subsequent sacking of Mick McCarthy divided fans; it was either nine months too late or shouldn't have happened at all. His successor, Terry Connor was appointed due to the board's reluctance to deal with national press criticism over the amount of time it took to make up their mind on his replacement.
Perhaps it seemed that last summer, he had the chance to put things right. Ståle Solbakken was a bold appointment, aimed with moving the club not just back into the Premier League, but also bringing the team's playing style into the 21st Century. For whatever reason, that appointment did not work out; those who supported Solbakken (and I include myself in this group) felt he was undermined by both the players and a lack of funds and should have been given the January transfer window to sort things out.
But, Solbakken was sacked. For the second time in under a year, a manager was sacked on the back of a humiliating defeat; McCarthy after a 5-1 home loss to West Bromwich Albion, Solbakken following a 1-0 reversal to non-League Luton Town in the FA Cup. Perhaps the board could be accused of being a little trigger happy, when maybe taking a night to mull over the options could have been a better course of action.
Yet, this time Morgan wasn't going to be accused of dillydallying in his appointment. There was very little chance of that, as the rumours of Dean Saunders' imminent appointment spread just hours after Solbakken's dismissal, before being formally announced two days later. Did Morgan get a rush of blood to the head then? Probably, especially when he himself confirmed that Saunders was the only man on the shortlist.
20 points from 20 games and one relegation later, and Saunders is gone. Presumably, Morgan will take a bit of time to make his decision this season. The club have made a point of stating on the official statement that the search for a new boss, "in conjunction with the Board, will be managed by Head of Football Development & Recruitment Kevin Thelwell".
One thing I think is clear is that, away from the watchful gaze of the national newspapers, this will not be a quick decision. This decision has to be the correct one, and it needs to take as long as it takes. But, once the decision has been made, it needs to be stuck to. The appointment of Solbakken was not a quick decision, but when the going got tough, the board bottled it and brought in somebody new.
Whoever the new manager is, it is clear that sweeping changes need to be made throughout the playing staff. There is not going to be a quick fix, and the board need to give the new manager time to make the necessary decisions. If we end up with a team full of kids next season and are hanging around mid-table, as long as there are signs of progression, the board will need to resist those fans who will be undoubtedly calling for the manager's head.
Steve Morgan has lost an awful lot of support from the fans over the past two years. This is potentially the first step onto the road of winning some of it back.
Favourites (at the time of writing): Darren Ferguson, Owen Coyle and Micky Adams
Potential outside bet: Paul Sturrock