Wolves 1-2 Cardiff City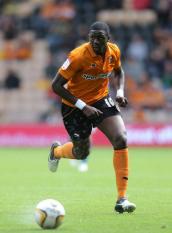 By Tom Bason
February 24 2013
Wolves lost yet again today, going down 2-1 to runaway leaders Cardiff City. Frasier Campbell's double gave Cardiff a two goal lead, and although Bakary Sako pulled one back, it wasn't enough.
After Tuesday's capitulation against Barnsley, Dean Saunders rang the changes, both in terms of personnel and formation for the visit of Cardiff. Saunders had on occasion played a back-3 while at Doncaster, and I had wondered before whether it was a formation that we could employ, but today was the first time we didn't start with a flat back four for a long time. Back came Roger Johnson to play with Danny Batth and Kaspars Gorkss at the back, Matt Doherty came in from nowhere to play as a right wing back, while Bakary Sako was given a more central role, playing just off lone striker Bjorn Sigurðarson.

The major advantage of playing three central defenders is that it should free up space elsewhere. It also means that two of your defenders can mark two forwards and leave one free. Having a spare defender can be useful when defending, always having someone on the cover, but can also be utilised from an offensive point of view. It should free a defender to bring the ball out of defence, to be able to play the ball forward into the midfield. Unfortunately, none of Batth, Johnson or Gorkss are particularly good on the ball, at least not good enough in possession to worry Cardiff at all. I couldn't help but think that there are other players who would be more suited, players with a bit more pace to cover the other two, and more comfortable with the ball at their feet. One of them, Richard Stearman, is out on loan at Leicester, while the other player I thought could have played the role is Karl Henry. Certainly, I think three 'blood and guts' central defenders are very limiting for the team. On the occasions they did try and play out, they looked unsure and could easily have given the ball away in worrying positions on a number of occasions.

The wing backs were the young duo of Matt Doherty and on-loan Jack Robinson. It was nice to see Doherty given a go, even in a slightly unfamiliar role. I don't think Kevin Foley is particularly suited as a wing back, although one player who I think could easily play there is Dave Edwards, who my opinion of has risen massively in the last nine months. He certainly has the energy to play up and down the right wing as a wingback, while his positional play is getting and getting better. On the other flank was Jack Robinson – this did surprise me slightly. I've no doubt he'll mature into a top class left back, but I'm sure how suited he is to be a wingback. And, we surely already have a wingback in our squad. No one is going to argue that Stephen Ward is a top class left back, but, surely wingback is the position that he's best suited to. He's not quite penetrating enough to be a winger, not good enough defensively to be a fullback. As a wingback though, he could potentially excel.
Considering the lack of experience both of them have as wingbacks, they did reasonably well. Both were tenacious in the tackle, and not as prone to backing off as Foley and Ward are, although this is perhaps because they had the added protection of an extra central defender behind them. But, neither were particularly penetrative going forward, and I struggle to remember either of them doing anything of note in an attacking position. Their positioning was suspect, often too deep when out of possession, but then too far forward when we had the ball. Cardiff played a narrow diamond formation (more on that later), which meant that often their attacking width came from their fullbacks. Given the general lack of direct opponents, I felt that both Doherty and Robinson could have stepped forward 10 yards and engaged Cardiff's midfielders far earlier than they did. Similarly, when we had the ball, for some reason both of them went forward far too early, playing almost as wide forwards right up against the fullbacks. I've written about this before when Sako and Sigurðarson have done this, and it almost took Doherty and Robison out of the game. They could have been far more effective if they'd been able to bomb on from deep, making them more difficult to pick up. Given that both of them did this, I can only presume this was under instruction from the management.
I guess that the idea of three at the back is to give you an extra man in midfield. I presume that Saunders is not convinced that our midfield is strong enough to get away with four men in it, hence the decision to move to 4-5-1 on Tuesday night, a move that was pretty much proven to be the wrong one. So, in order to keep two forwards, but give that five man midfield, Saunders was forced to play three at the back. The problem was, that the wingbacks positioning meant that it was very rarely a five man midfield, more consisting of Tongo Doumbia, Karl Henry and Jamie O'Hara. A strong midfield in theory, but here Malky Mackay was clever, switching early to a narrow 4-4-2 diamond, meaning that Cardiff had four nominally central midfielders against our three when they had the ball. This made it a lot easier for them to pass around our midfielders, almost at will at times. Cardiff's narrow midfield meant that it was imperative for their fullbacks to get forward, which they did well, arguably having more of an attacking impact than our wingbacks. Given that we didn't really have any wide attacking players, their fullbacks were able to bring the ball forward at will, until they reached about 40 yards from our goal, at which point Doumbia or O'Hara came out to meet them. This of course removed another midfielder from the centre of the pitch, weakening us even more in the centre.
That said, while Mackay's clever tactical switch made life difficult, it didn't help that no-one played well. Doumbia and O'Hara were both off the boil going forward, not really providing the sort of support that Sako and Sigurðarson needed. However, the gulf between those two midfielders was vast. O'Hara, even though he didn't have the best game, never gave up. Even when playing poorly, he never hides away and was always looking to get on the ball. The fact that he never did anything with it is almost irrelevant – he showed character. On the other hand, Doumbia was embarrassing. I'm generally a big Doumbia fan, but today had no arguments with his half time withdrawal. Earlier in the season, he was always looking for the ball, always wanting to do something with it. Today though, he was doing everything he could to avoid getting the ball, looking uncomfortable on it whenever he received it.
Upfront, Sako and Sigurðarson didn't impress as a partnership (although they looked far better than Kevin Doyle and Sylvan Ebanks-Blake have ever done), but were probably the pick of the bunch. Sigurðarson was our liveliest player, and put in three excellent crosses – Sako miscued the first, the second evaded everyone and the third was slightly behind Doyle and he could only put his header straight into the arms of David Marshall. Still, in a day of tactical experimentation, Sako through the middle has been tried, but I think he looks more dangerous on the flank, where he played in the second half. He made one superb dash, the length of the pitch following a Cardiff corner, crossing for Ebanks-Blake to tap in. Except Ebanks-Blake miss hit his effort, and somehow hit the ball into the ground and over the bar from inside the six yard box.
At halftime, 1-0 down from a long throw, headed in by Frasier Campbell, Doumbia and Batth were replaced by Doyle and Ebanks-Blake, and the formation changed to 4-4-2. I was disappointed that Doyle played through the middle, given how dangerous Sigurðarson had looked in the first half, and how well Doyle played on the right against Leeds United. Whether it was the change in formation, or a rocket up the players' backsides, the second half was a vast improvement on a disjointed first 45 minutes. With Sako and Sigurðarson on the flanks, there was threat down both sides, and the defence looked far more comfortable in a back-4. We went slightly more direct, and after yet another goal conceded from a set piece, pulled a goal back through a deflected Sako free kick. We should have got an equaliser through the afore mentioned Ebanks-Blake miss, but that wouldn't have really been deserved on the overall balance of play.
Finally, spare a thought for Dorus DeVries. Today, he was on the bench for a team in the Championship relegation zone. He will have spent the time after the match watching his former teammates win the League Cup. Surely him choosing to join us must go down as one of the all-time awful footballing decisions.