Stale shown the door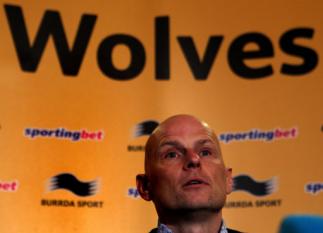 Farewell Ståle
By Tom Bason
January 5 2013
So, that's it. The reign of the first non-British born manager in the history of Wolverhampton Wanderers Football Club ends in defeat to Luton Town.
Both Steve Morgan and Jez Moxey have had a lot of criticism from the fans, especially in the last few months, but perversely I think they deserve credit for the appointment of Ståle Solbakken. Last summer, it would have been incredibly easy for them to appoint a bog standard British manager, fresh off the managerial merry go round. I'm sure that the likes of Billy Davies and Steve Bruce (who should have been appointed last February) would have gladly taken the Molineux hot seat instead, they gambled on a foreign manager with little experience in English football, save for a six month playing spell at Wimbledon.

I don't think anyone expected Solbakken to have immediate success; he arrived fresh faced and full of ideas of a possession based, zonal marking style. However, we managed to lose three of the five players I actively wanted us to keep, and were generally left with a squad full of dead wood. A lot has been made of the fact that these players won the league 2008/09, but it shouldn't be forgotten that the majority of them also finished 7th in an insipid season prior to that.

Perhaps a manager whose teams are based on working hard, and playing fast direct football could have got the best out of these players. Someone, perhaps like the manager currently at Ipswich. It wouldn't have had to be Mick McCarthy, and to be honest I'm fairly fed up of McCarthy being mentioned during analyses of Solbakken; Mick's time was up a long time before he was finally sacked. But, he is the type of manager who would be successful in this league.

And, this for me is the worry. Solbakken was a gamble, but he also brought in a different way of thinking. In theory, he was shaping the entire club, and while it didn't quite work out, it was the right idea. It was clear that Morgan and Moxey wanted the club to be more than a team of battlers, scrapping for every point. They wanted a more progressive manager, dare I say someone with a 'philosophy (again, I hate the word philosophy. I don't understand the difference between a philosophy and a 'lack of plan B'). It didn't work, but the idea was right.

My fear is that's the end of the progressive Wolves. We go back to the blood and thunder British manager, who knows this league like the back his hand and is 100% geared towards short term results. I don't want someone like Gary Megson or Neil Warnock managing my club - sure, they're about as close as you get to a guarantee of turning around this slump of form and you wouldn't back against anyone like that getting the club promoted. But, it puts us back in exactly the same position as we were under McCarthy.

As for who I want to replace Stale, I'm at a loss. I look at the list of favourites, and I find myself ruling them all out for one reason or another - would you really want Sean O'Driscoll if he wasn't a Wolves fan? Hasn't Owen Coyle got a weird shaped head?

Maybe the appointment of Ståle was a mistake, but I'd be prepared to say that the biggest mistake was not completely overhauling the playing squad. I can count on two fingers the number of players who are in credit so far this season, and one of them was a Stale signing who a British manager probably wouldn't have signed (obviously Bakary Sako. The other is Carl Ikeme). Every other player in the squad should be lying awake tonight, reflecting that their performances over the past couple of months have cost a good man his job.

For so long under McCarthy (and that's the third, and last time I mention him) we had a team who were limited in ability, but (just about) made up for it with hunger and desire. Well, too many of these players have lost that passion and are finally realising just how poor then are technically. Certainly they're not good enough for the sort of football Stale tried to impose early on in his time at Wolves. I really hope we don't go for a short term quick fix. We're unlikely to go down (the bookies have us as ninth favourite for relegation), so surely we need to write off this season. Bring in a manager who is more Solbakken than McCarthy (bugger), but given him the rest of this season and next summer to develop the team he wants.