Fletch should be kept at all costs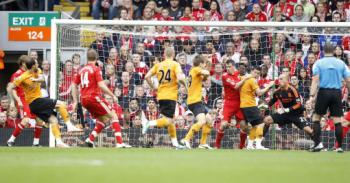 By Tom Bason
August 2 2012
Although not confirmed by the club, the general consensus is that Wolves have rejected a £10 million bid for Steven Fletcher from Sunderland. If the rumours are true, the Wearsiders are set to improve their bid by £2 million, and I suspect that many a Wolves fan will feel that £12 million is too much money for a Championship club to turn down. I'm about to tell you that you're wrong, that Fletcher's value to the club far exceeds any bid that Sunderland will make.
First of all, be aware that I'm writing this on the basis that Fletcher is not actively seeking a move from the club. It's a completely different story if he's going to cause the kind of problems that Arsenal and Tottenham Hotspur are seeing with Robin van Persie and Luka Modric this summer.
For me, the decision whether or not to sell Fletcher boils down to three simple questions:
1) Is our primary aim to bounce back into the Premier League?
2) Does having Steven Fletcher in the team significantly improve our chances of promotion?
3) Can the club afford to keep Fletcher for one more season, even if the promotion dream isn't realised?
As far as I'm concerned, if the answer to those three questions is yes, he shouldn't be sold. A player of Fletcher's ability is going to make a huge difference to a Championship side. This is a player who scores a goal every three games in the Premier League, and is the highest quality Wolves player I've seen since a young Robbie Keane cartwheeled onto the scene. Even if promotion isn't gained, will his value of dropped that much in 12 months? Yes, he'll have a year less on his contract, but the difference between three and two years remaining is slight.
Look at the prices that are being bandied about for forwards who have never played in the Premier League? Jay Rodriguez moved from Burnley to Southampton this summer for £7 million. Rodriguez scores a goal every 230 minutes in the Championship. Fletcher scores a Premier League goal every 219 minutes. Fletcher scores at a better rate than Rodriguez, in a tougher league, playing for comparatively worse teams, and is somehow only valued £3 million more? That to me is a joke. And don't bring me onto comparisons with Andy (a Premier League goal every 246 minute) Carroll….
I used the price for Rodriguez to demonstrate the amount it'd cost to replace Fletcher with a player who's scored goals in the Championship, and has the potential ability to step up to the Premier League. Perhaps Björn Sigurðarson is the replacement? Personally I doubt it, in the short term at least. It'll be difficult enough making the transition to a new league, before you factor in that he's already played half a season. Is he still going to be fresh after 30 odd games, with still a third of the season to go? I'd be worried if he was going to be the central figure of our forward line for the season (I'm not writing him off at all, I just expect him to take some time to settle in, and pretty knackered by Easter).
When Manchester United sold Cristiano Ronaldo for £80 million in 2009, I was one of the few who thought it was a bad deal for the Salford club. How could they possibly hope to replace him? There was only one direct replacement, and Leo Messi was as unavailable to Sir Alex as Scarlett Johansson is to me. This isn't to say that there's no precedent for clubs selling star men and improving – when Juventus sold Zinedine Zidane to Real Madrid, they effectively replaced him with Gianluigi Buffon, Pavel Nedved and Lilian Thuram, and but for Calciopoli, had one of the most successful spells of the club's history.
I guess that's one of the big questions – there are clear positions in the team that need strengthening, left back being the priority. But, it appears that Ståle Solbakken is able to bring players in without the sale of Fletcher, especially as the club turned down £2 million for a player who is likely to be our reserve right back with only 12 months left on his contract (incidentally, I'd have definitely sold Ronald Zubar. Kevin Foley's a superior player, and we have Matt Doherty coming through and Richard Stearman is more than adequate as cover). If we can afford to turn down £2 million for Zubes, a player who can leave for free in a year's time, surely there's no compulsion to sell Fletcher?
Finally, there's the financial question - £12 million is a lot of money for a Championship club. But it pales into the insignificance to the estimated £90 million that promotion brings (slightly exaggerated, Wolves' turnover increased £42.371 million in our first season back in the Premier League). But, that figure is only going to get bigger with Sky and BT virtually doubling the domestic TV deal to £1 billion a season. With foreign TV rights doubling with each new deal, the financial gap between the Premier League and the Championship is ever increasing. Hell, £12 million is less than the parachute payments we get this season.
I've been having a look through at previous sales by Championship clubs, and there are very few players there that I'd put on the same sort level as Fletcher. The nearest I can see is Darren Bent, who left the newly relegated Charlton for Tottenham Hotspur for £16.5 million. Now, adjusting for normal inflation, that's around £19 million in today's money. If you adjust for football inflation, it's a hell of a lot more. Assuming Fletcher is happy to stay for a season to see if we can bounce back, I'd want at least what Spurs paid for Bent, and even then I'd have to think twice.