Is it time give Rog a chance?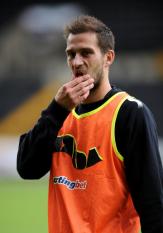 By Tom Bason
July 3 2012
Has there been a more hated Wolves player in recent times than Roger Johnson? While a number of other players have had their detractors, there seems to have been an almost equal amount of supporters. Yet, Johnson has unified Wolves supporters in their disdain for the former Birmingham man, quite an achievement.
Yet, is it time to give him a chance?
The Birmingham Mail last week, through some sort of strange logic, claimed that due to Johnson's contract having a relegation wage drop clause in it, it might be more difficult to get the sort of top whack fee that we'd have been expecting, even if most Wolves fans would let him go for the cost of the petrol it takes to drive him there. Surely, given his poor season, and the reputation that now precedes him will have seen his value drastically drop anyway. It is unlikely that any club would be prepared to pay more than the £4 million Birmingham City received for him last summer.
So, I ask, is there a case for keeping him? Firstly, I don't think his performances this season have been as bad as fans have made out. Wolves' fans at times have a tendency to make one player a scapegoat - remember the universal loathing of Christophe Berra during his first few months? There's no way he was playing particularly worse than Jody Craddock at that point, yet Craddock was lauded. I think the reputation of Johnson's performances have almost taken a life of their own. Sure, he's had some stinkers, but who hasn't? I'd guess that Player of the Season Wayne Hennessey made more mistakes leading to goals this season than Johnson has.
The main problem that has beset Johnson this season is through no fault of his own (although his dalliance with training drunk didn't help. But, I suspect he wasn't the first and won't be the last Wolves player to do this. When did you last turn up for work a little worse for wear after a heavy night?). Many Wolves fans, and apparently the Wolves management seemed to see him as the missing link, the imperious defender who will answer all of our defensive problems. He was even made captain, with local boy Karl Henry demoted. Whether you agreed with this decision or not, it surely heaped the pressure onto a man yet to kick a ball in anger wearing Old Gold.
But, Johnson was never going to be this man. I wrote after his debut that forming a secure partnership was vital. It was very noticeable last season how Birmingham's defence suffered with Scott Dann's injury (another player who has failed to live up to his St. Andrews' highs); Johnson wasn't able to maintain his form without his partner alongside him. A good defence is not built on individuals - I can't remember the amount of times I've walked away from Molineux thinking that individual defenders have played well, but collectively have struggled.
For all McCarthy's experience as a defender, he was never able to forge that coherent defence that he was looking for. Even during our three Championship seasons under Mick, the defence never looked secure, exemplified by the return of Jody Craddock after his Wolves career appeared to be over as he was sent on loan to Stoke City. This lack of help from the coaching side never allowed Johnson to settle. For all their games together, he and Berra never appeared to be a team, more two individuals thrown together.
But, maybe Ståle Solbakken will be the man to organise a defence. Johnson will have a full preseason behind him, plenty of time to work on the defensive shape. Ståle will have seen all of Johnson's Wolves performances, and may or may not think he is a defender worth persevering with. I just hope that if Ståle decides to keep him, the fans will find it within themselves to back that decision.