Nouble In, Fletch Out?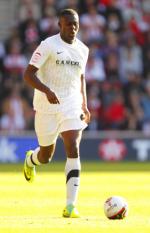 By Tom Bason
June 22 2012
Over the past few seasons, there have been a number of, ahem, questionable signings. Players who make you scratch your head and think "why the hell have we signed him?"
Well, dare I say that we have the first of the Ståle Solbakken era, with the arrival of Frank Nouble? Those of you who know my love of Kevin Doyle will appreciate that I don't think goalscoring record should be the only thing a striker should be based on, but Nouble has scored just 8 in a career taking in spells at West Brom, Swansea, Gillingham, Charlton, Barnsley and Swindon. If I was to break his goalscoring record (sic) down, I'd note that of those eight, five came this season for Gillingham in League Two, in addition to the one scored as West Ham won promotion, one as Barnsley narrowly avoided relegation in addition to one scored for Charlton in League One last season.
I had no idea of these stats until this morning, but my instant reaction to the rumour of the signing yesterday was "If this is true, it'll possibly be the single most depressing moment I'll ever have known as a Wolves fan". It is very rare that I am pleased when anyone signs for West Brom, but I was chuffed to bits when Roberto Di Mateo signed him on loan in 2009/10, going on make three starts, playing a total of 221 minutes.
But, since Solbakken was appointed, I've hardly been able to contain my excitement for next season. Gone are the days when I was still footballed-out by the time the first game of the new season came around; I'm actually really looking forward to next season. Maybe this is just because I'm in Euros mode at the moment, but I can't wait for the first day of the new season (even if I won't be going because of Ken Bates' ridiculous ticket prices). And so, I'm going to take some of this optimism, and have faith in the signing of Nouble, because I have faith in Solbakken.
But this leads to another question; who has decided that Nouble will be a good signing? The official site quotes Solbakken as saying "Frank is a player that our scouts have been watching". 'Our scouts'. Now, I have nothing against our scouting team coming up with players, and they've picked up one or two gems from the lower leagues over the past 6 seasons, but Nouble clearly isn't a player that Solbakken will have seen a huge amount of. I doubt a Bundesliga manager spends a huge amount of time watching the English Football League, where Nouble has spent much of his career.
But, there is also a second question. On our books, we currently have Steven Fletcher, Sylvan Ebanks-Blake, Sam Vokes, Sam Winnall, Leigh Griffiths, Kevin Doyle and Jake Cassidy as strikers, plus the impending arrival of Björn Bergmann Sigurðason. However you look at it, that's a lot of strikers. How many do we need? I would guess that Nouble has been bought in as fourth choice striker – there's not a lot of point signing a fifth choice striker who rarely gets used, Vokes or Griffiths could easily fill this role. This suggests to me that one of the big boys will soon be moving out, with Tim Nash on Twitter last night suggesting that it will be Fletcher on the way out.
Now, even the most ardent Wolves fan must have seen this coming, but I was still holding out hope that he'd give us one season in the Championship. Remember, he's under contract until 2014, with the club having the option of an extra year, so there is no immediate rush to sell. I guess I was delusional, but he would have been a hero had he dropped a division with us and smacked 25 goals next season; he would have been revered in a way no striker has been since Steve Bull. But, any hope I have of seeing Fletch in a competitive Wolves shirt again is slowly dwindling away. But, as I said before, Ståle Solbakken has my complete trust at the moment, and if he believes Nouble will be a "useful addition to the squad", then who am I to argue?