Staale-mate at Molineux - A New Manager Arrives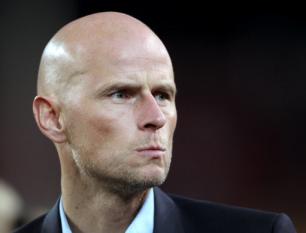 By Tom Bason
May 11 2012
Wolves seem set to appoint the first non British manager in its illustrious history (If it looks like a Yorkshireman, walks like a Yorkshireman, and most importantly, quacks like a Yorkshireman, then I'm pretty sure Mick McCarthy isn't actually Irish).
Yet, many Wolves fans will never have heard of Ståle Solbakken (I'm pretty sure this is the first time I've used å in my life). Personally, I vaguely remember him at Wimbledon and playing for Norway, and remember the heart attack story, but never really connecting the two. I take an interest in European football, and so was aware of him being appointed FC Köln manager – I was actually in Cologne earlier in the year, but my main contact there is a Schalke fan, so didn't discuss the local team a huge amount.
All I am doing is letting you know that 99% of Wolves fans are in exactly the same position as knowing virtually nothing about him. Between the news breaking last night, and this morning I've managed to do a little research on him:
Formation: At Copenhagen, on his way to winning three Danish Championships, he definitely favoured a 4-4-2 formation. Yet, upon arrival at Köln, he switched to a 4-2-3-1, possibly to get the best out of Lukas Podolski, the German World Cup star. Podolski finished the season with 18 goals, but Köln were relegated. Stolbakken is likely to stick to a back four, but may be more flexible in the forward positions.
Defence: Stolbakken has always asked his defence to employ a zonal marking system that worked reasonably well at Copenhagen, conceding 129 goals in 165 league games. This is probably an average return for a team winning the league on a regular basis. At Köln though, it was disastrous, conceding 75 goals in 34 games. By way of comparison, we'll need to concede four on Sunday to achieve the same average goals conceded per game. Zonal marking has its many detractors, but it is without a doubt a system that takes time to get used to. The Copenhagen players obviously did, but the Köln players didn't.
Fitness: This is a worry. His Köln side got progressively worse through the season (see figure below), conceding a huge amount of goals in the latter stages. We obviously have a specialist fitness coach in Tony Daley, and the work he does with the players this summer could be definitive in deciding our fate this time next year.
Persona: If there's one thing Solbakken isn't, it's a firefighter. Had he been appointed in 2006, following the departure of Glenn Hoddle, and the likes of Joleon Lescott and Kenny Miller, he'd probably have failed miserably. Last season, Köln needed someone to add stability – Stolbakken wasn't that man. IF, and I guess it's a massive, massive if, there is some degree of stability this summer, Stolbakken can build from it. If there's not, I fear for him.