Wolves 2-3 Bolton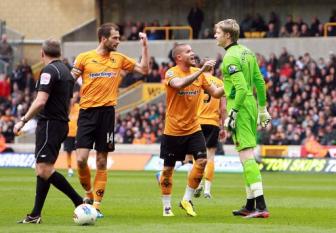 Going Down Fighting
By Tom Bason
March 31 2012
Wolves today slipped one step closer to the relegation zone with a 3-2 defeat at home to Bolton Wanderers. Michael Kightly had given Wolves the lead, before Bolton hit back through Martin Petrov, Marcos Alonso and Kevin Davies. Matt Jarvis did score a late consolation goal, but it wasn't enough.
- When I saw the line-up, I didn't really know what to think. It was obviously a game we needed to win, so I understood the decision to pick Sylvan Ebanks-Blake ahead of Kevin Doyle. Given we were playing two forwards and two wingers, I would have liked to have seen Nenad Milijaš selected ahead of Dave Edwards. I'm still a big Milijaš fan - I think he's been criminally underused over the past 30 months, and think he offers more both going forward and defensively than most of our midfielders - Edwards especially.

- Overall, the match reminded me of the game at home to Aston Villa. Dominate the first half but fail to put away the chances, with Michael Kightly at the heart of everything good. Then, a decision from the referee swings the game away from us. Against Villa, it was Karl Henry's red card, today it was the decision to award Bolton a penalty, but more on that later.

- The first half saw as good a performance as I've seen from Wolves in one hell of a long time. I've no idea how we went in at 0-0 at halftime. Chances fell to both Ebanks-Blake and Steven Fletcher, but neither could score - Fletcher's header that hit the bar was probably the pick of them. Yet, there was no way we could expect to replicate that performance in the second half - I advised my friend against betting on Wolves at halftime as the pattern of play would surely change in the second half. He didn't listen to me. Idiot.

- Saying that, the text I sent to him was about 15 seconds before Kightly gave us the lead, so I'd like to take full credit for that goal. Kightly played well today, and will surely be a big player for us next season, which ever league we're in. It must be nice for Jarvis as well, to finally have someone on the opposite flank who may just divert the defence's attention slightly. I think Kightly's time with us in the Premier League will rank alongside Matt Murray's and Joleon Lescott's 03/04 seasons. Obviously he's not as good as those two, but he's basically lost three years of his career at exactly the wrong time.

- Perhaps I was wrong earlier when I said the decision by the ref was the turning point of the match. Well, in a way I was right, but it was the decision to blow the half time whistle that turned the tide. Bolton came out in the second half with a renewed purpose and vigour. There was no inspired tactical change by Owen Coyle, but instead Nigel Reo-Coker started to control the midfield. I wouldn't go as far as to say that Kightly's goal was against the run of play, but Bolton were starting to exert some control of the game even by that stage.

- It was the midfield battle that changed - in the first half, the energy of Edwards and David Davis were enough to snuff out Reo-Coker and the returning Mark Davies, but Reo-Coker especially started getting more into the game. He appeared to be dropping deeper to collect the ball, and generally upped his performance. This gave Davies a little more space to move in, and just before he 'won' the penalty, I tweeted "Mark Davies starting (to) find space in midfield. Need to shut him down earlier". It was of no surprise that the penalty was won in the way it was - Davies finding space to run into, causing a defensive error.

- I've only seen the penalty decision once - live at Molineux, so I'll see whether it was a good decision or not tonight on Match of the Day. My initial reaction was that the defender (I'm unsure who it was) got a touch of the ball. Strangely, no part of me initially thought he'd dived, and so, if there was no contact with the ball, I can't blame the ref at all for the decision. Instead, it was a poor piece of defending, and the warning signs were there a couple of minutes earlier when he danced through a couple of challenges and slipped the ball to Ivan Klasnić in the penalty area.

- I mentioned the battle between Davies/Reo Coker and Davis/Edwards swinging away from us in the first half, and the big upshot of this was we failed to get the ball to the wings enough in the second half. I tweeted in the first half that there were acres of space in behind Ryo Miachi and Petrov for Jarvis and Kightly to attack, and both had the beating of their fullbacks. Unfortunately (or perhaps credit should be given to Coyle for this), Bolton managed to deprive them of service, and so out main attacking threats were gone.

- Once again, it was the goals conceded that killed us. The first was an avoidable penalty, and I'll forgive the third - we had three players on the halfway line - as soon as you start chasing an equaliser, it's going to leave gaps at the back. But the second was awful, again. Don't our coaching team work with the team to defend set pieces during the week? Yet again, we've shot ourselves in the foot. That's the third time in recent weeks we've gone behind to a poorly defended set piece - both Fulham and Manchester United's opening goals were from corners. This is unacceptable at any level, never mind in the Premier League. Either the coaches are inept, or the players are too thick to listen to basic instructions. It is just not good enough and something needs to be done.

- I'm guessing most people are accepting we're now down? Should next season's planning start now? Or should everyone be playing for pride, even if they're definitely going in the summer? Perhaps one of the advantages of still having most of the team who were promoted is that not many of them will be banging on the manager's door looking to leave. Or maybe, if we didn't have so many of those players still in the first team, we wouldn't be in the position we're in? We are six points behind 19th - I'm not sure I can see us gaining six points the rest of the season.

- One player who will surely be off is Fletcher. As long as he handles it properly, I don't think any fan will begrudge him the chance to stay in the Premier League. I think his first touch is the best I've seen from any Wolves player. The way he caresses the ball as it drops out of the sky is something to behold. In fact, I'm fairly certain my Player of the Year vote will be going to Steven Fletcher's First Touch.