Peter Knowles - God's Footballer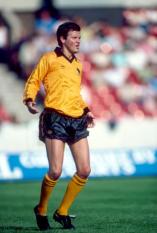 By Tom Bason
April 27 2011
Football and religion have always been intertwined; from teams such as Manchester City and Everton being formed as church teams to the likes of Gavin Peacock entering the church in their post-football careers. Indeed, many believe that football is a new religion, with star players being treated as deities and their importance within society being debated long into the night. One player, however, had doubts as to its significance.
Peter Knowles was born in 1945 to a Yorkshire rugby league player, and displayed prodigious talent at all sports as a youngster. However, it was football that he excelled at, with both he and his brother Cyril being picked up by Wolverhampton Wanderers and Middlesbrough respectively. While Cyril would go onto to play over 400 times for Tottenham, winning a succession of trophies and England caps along the way, Peter's career was over by the age of 24.
It was clear from a young age that Wolves had a player of supreme talent on their hands. Playing initially as an old fashioned inside forward, he spent just a year in Wolves' youth team before legendary manager Stan Cullis gave him his first team debut at the age of just 18 in a 1-0 victory over Leicester City in 1963. In the following match, his home debut, he scored Wolves second in a 2-2 draw with Bolton Wanderers.
Despite Wolves' struggles in 1963/64, Knowles made 14 appearances, with a credible four goals. The following season saw Wolves relegated to Division Two, although Knowles was one of the bright parts of the season. It was in Division Two though, that Knowles really displayed his talent, scoring 21 in 33 games, becoming an integral part of the team as Wolves bounced back at the second attempt.
Back in Division One, Knowles continued his progression, forging an impressive partnership with Derek Dougan. During that time he received international recognition, appearing for the England Under 23s four times, and was an outside bet to join the England national team in Mexico in 1970. It seemed to be just a matter of time before he gained his first senior international cap.
In a time of 'rock and roll football', with the likes of George Best, Stan Bowles and Frank Worthington entertaining the fans both on and off the pitch, Knowles was no angel. The tricks and flicks were all there, as was the confidence and self-belief in his own ability needed to perform them. He owned a brand new MG sports car, with his name down the side, also racking up a poor disciplinary record to go with his petulant behaviour on the pitch.
As a player, Knowles was ambitious and eager to play at the highest level, this seeing him hand in a number of transfer requests, each rebuffed by the manager. However, following a 1969 summer tournament in America, in which Knowles scored five goals for the Kansas City Spurs, his attitudes started to change, with a knock on the door changing his life dramatically.
The two Jehovah's Witnesses were invited in and got through to a young man, grieving the loss of his father and sisters. Knowles began to read the Bible, and slowly fell out of love with football. He would later state that the intensity of football took him away from his religion and his family for half the week.
"I shall continue playing football for the time being but I have lost my ambition. Though I still do my best on the field I need more time to learn about the Bible and may give up football."
Despite his clear misgivings, Wolves started the 1969/70 season in fine fashion, winning their opening four matches. Indeed, following turning Bill Shankly's Liverpool side down in the summer, Knowles himself scored three goals in this time. However, eight games into the season, following a 3-3 draw with Nottingham Forest, Knowles retired from the game, at the tender age of just 23.
This was greeted with shock and disbelief throughout the football world. Everyone expected him to retract his decision – how can any young man happily give up the glory and the attention of a young footballer, especially one with such a promising future? Team-mate Frank Munroe later said he thought he was a 'bloody idiot' and expected him to return to the Old Gold within eight weeks. Wolves never gave up on him, sending him a new contract every year for ten seasons, and holding his registration until 1982, 13 years after his retirement.
For Knowles himself, there was never any doubt he'd made the right decision:
"There hasn't been one day in 40 years where I have turned around and said to myself, my wife or my friends, 'I wish I hadn't packed up football'. It's the best decision that I've ever made. I'm content with life. When I look at my standard of living and how it has dropped over the years, it doesn't matter. I have my health. I'm still married — and if I had carried on playing football I wouldn't have been!"
The legend of Knowles, the boy who gave up football, was immortalised in the Billy Bragg song 'God's Footballer', and he will forever be remembered by Wolves fans as one of the great unfulfilled talents of English football.
Written originally for the excellent Equaliser Blog