STEVE COTTERILL IS THE WORST FOREST MANAGER IN LIVING MEMORY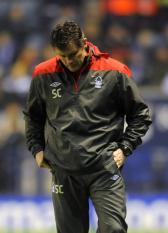 Hapless
By MJL
February 1 2012
There's no two ways about it, and there's no way I'm mincing my words. Running this website has provided me with a forum for my views on Forest and it's my belief that the louder this particular view is voiced the better.
It's Derby on Sunday. And unfortunately recent comments from a seemingly powerless chairman in Frank Clark suggests that we are going to be stuck with this tactically inept buffoon presiding over the one game in a season we cannot stand to lose.
There was absolutely no way that I ever thought we would have a manager more clueless than Gary Megson, David Platt or Joe Kinnear combined. But we have it in Steve Cotterill. This is a man who's blind optimism extends to playing the same team week after week while said team constantly serves up a steaming pile of horse manure. A man who complains about a lack of defensive options then just goes ahead and sells our longest serving player in central defender Wes Morgan anyway.
Under this fool we haven't scored at our own City Ground since November. For the past two seasons this was a place people feared coming.
This is a man with no pride. Who would be stubborn enough to stay in a job for which he is clearly unqualified and the subject of hatred and vitirol in equal measure? Probably somebody that's been exposed for what he is, Joe Bloggs masquerading as a football manager. Never fear though Steve, there's always the Dutch league.
The Forest fans do not want you Cotterill and from the looks of things neither do you players. Stay with Forest and the only thing you'll have less of than pride, dignity and a footballing brain - is your reputation. You know it's time to walk when we can't even sell our allocation at Derby.
Steve Cotterill: Do you want to be known as the man that killed Forest?