Derby 0 Leeds 1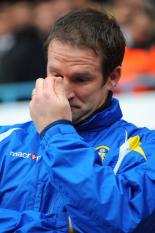 By Andy Baggott
December 27 2011
Leeds slumped to defeat against Derby in another lacklustre display. Make no mistake about it, Leeds are in a slump at the moment, and it's not just the recent results that are not good enough - it's the poor performances.Without ever hitting scintillating form this season, at least the first few months saw players like McCormack banging in th goals, Clayton bossing th midfield, and the team looking a threat going forward.
Not any more - the goals have dried up for Ross, and Clayton looks a shadow of the player of a few months ago. The biggest worry for me though has been Lucciano Becchio. The Argentine looks disinterest and way off the pace. Of course, he missed pre season with an injury, and it took him a long time to get back in the squad. The first few games could be put down to rustiness, but he's had a decent run in the side now and offered little - as shpwn yesterday at Derby, where he was very, very poor.
The game itself wasn't a great spectacle - similar to many recently. Derby's Jamie Ward getting the only goal in the second half. Leeds woke up late ona nd put some pressure on, but it was too little too late.
The transfer window opens soon, and Grayson has to get it right. We desperately lack speed and creativity. Snodgrass is the only player capable of unlocking a defense, and teams are getting wise - stop Snoddy - stop Leeds. We haven't got a player who can fire in a 30 yard shot to break a deadlock - there's no one with searing pace who can get on the end of a hopeful long ball - no skillful winger with quick feet who can create something out of nothing...it needs addressing - and needs addressing quickly.
It will be an interesting few weeks - the pressure is growing on Grayson, and he needs to get some flair and confidence into the team, otherwise he'll struggle to see the season out...
More Leeds United headlines
Leeds United Poll