McCarthy Delighted to Start with Fulham Win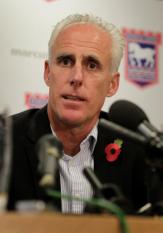 By TownFans.co.uk
August 10 2014
Town boss Mick McCarthy was delighted to see his side win their first game of the season 2-1 at Portman Road thanks to goals from Daryl Murphy and sub David McGoldrick against Fulham.
"I thought we deserved it. We played well and it's great to start with a win, especially against a team relegated from the Premier League." said Town boss Mick McCarthy after the game.
"They've got quality players and we have to work very hard to get the win. We were hanging on there after they scored but for the first 85 minutes, we were the better side.
"Their goal was a deflection and we had a few of those last season, the Bournemouth one came to mind but we got bodies in there and as I said, we deserved it in the end.
"Murph was excellent. He took his goal well and did great for Didz's goal and of course, it was great to see Didz back.
We didn't think he'd make the first game a few weeks back but he has worked really hard and the physios must take credit as well.
"He's top quality and it was a boost for everyone to see him out there."