Chelsea defeat under strength Fulham side at Stamford Bridge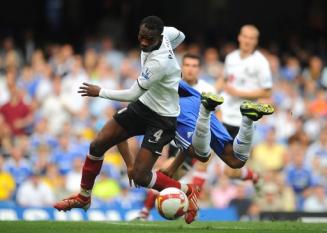 Pantsil: Good performance
By JB
May 2 2009
A quick goal from Chelsea set the scene as Fulham, without Davies or Johnson go down 3-1. A great reply from Eric Nevland was the only goal from the Whites, as Chelsea found the net twice more before the final whistle.
As the whistle went for the kick-off, Fulham fans were still finding their seats and putting the programme down; Chelsea were wide awake, their players trying to prove to Hiddink that they should be the ones chosen for the Champions League match against Barcelona. The opening goal caught the Fulham defence napping in under a minute when Drogba and Anelka linked up to go one up. Fulham did not take long to reply when Eric Nevland put a marvelous strike past Cech for the equaliser.
Only six minutes later Chelsea went ahead again with some poor defending from the usually reliable Cottager defence. Drogba's pass found Malouda, getting past Hangeland, wrong footing Pantsil and bypasing Schwarzer; it was 2-1. Fulham looked to counter, and it was Nevland again who had a shot at goal, but it went over the crossbar. Zamora had an oppurtunity a few minutes later, but his header went wide.
Nevland goes down injured, after a rare place in the starting line up

it was after 34 minutes that disaster struck Fulham when Nevland recieved an injury, perhaps caused by a Terry challenge. The one player who looked like scoring limped off with a knee injury, and was replaced by Kamara. Chelsea went on to have the best of the remainder of the half with a number of runs and shots at goal.
I'm not sure what went on in the dressing room, but Fulham may as well have taken some sleeping pills for all their endeavors. A grand total of two shots at goal, both wide of the target, and a poor free kick was the sum of Fulham's effort up front. The defence on the other hand played a bit better with Pantsil having the best game of the back four, keeping Chelsea limited to 3 goals. The third Chelsea goal went in after 52 minutes, and it was Drogba this time, again linking up with Anelka, with a low shot from a tight cross in front of Schwarzer's goal.
Another day, another Fulham forward goes off injured. Zamora was taken off, likely as a precaution, to be replaced by Dacourt, with Dempsey moving up front.
This performance was missing a vital ingredient today. Hangeland and Hughes did not play with their usual excellence, the midfield looked a bit overwhelmed at times and there generally a lacklustre atmosphere up front, especially after Nevland went off.
The three stars are hard to find but here's who I think that didn't let the side down.
* Paul Konchesky. Not his best game, but kept the faith in defence and a few good attacking runs on the wing.
** Eric Nevland. A fantastic goal that made Fulham's hearts soar so soon after the Chelsea goal. Who knows if he could have had another. He looked like the only one likely to score.
*** John Pantsil. made some great defensive tackles and put in some useful crosses from the right. if only we could have made more of them
Super Fulham Man of the Match: John Pantsil