Fulham sign Paintsil and Zamora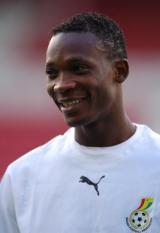 Paintsil moves to SW6
By JB
July 16 2008
Bobby Zamora and John Paintsil have signed in a joint deal worth £6.3 million from West Ham. The two have not been favourites at Upton Park, both failing to be regulars in the starting line up. Roy Hodgson has made these controversial signings in the hope that they will bolster the squad, giving it more depth to avoid a repeat of the near relegation of last season.
Bobby Zamora has had an injury that left him on the sidelines for much of last season, so he, perhaps understandably, did not rack up many goals for the Hammers. John Paintsil can play in defence or a midfield role, so Roy feels he will add strength to what has been a leaky back four. West Ham fans seem to have mixed views on him. Some feel he never really had a chance to prove himself while others are glad to see him go.
Bobby Zamora impressed many some years ago when he notched up 83 goals for Brighton and Hove Albion in 136 appearances. However a move to Spurs proved difficult where he failed to settle, and scored once, but rarely made it into the starting line up. A move to West Ham proved more favourable, where he scored 13 goals in his first season (2004-2005). There is a feeling that the promising young striker never fulfilled his potential at the top level, so why have Fulham gone for someone like this?
The answer is that there could be no one else around to add to our forwards, and Roy felt pressured to make a signing before the start of the new season. With Kamara injured and having under performed last year, McBride gone and Johnson with a huge question mark hanging over his head, perhaps Zamora was the only hope. £6.3 million seems a bit steep though, even with Paintsil thrown in. We can only hope for the best, but like many Whites fans I fear disappointment. Well, you never know, Roy may be the one that gets the best out of everyone, and Nevland looks promising; only time will tell....

View a Printer Friendly version of this Story.
Fulham sign Paintsil and Zamora
Super Fulham (IP Logged)
16/07/2008 08:56
Fulham sign Paintsil and Zamora
Sorry, only registered users may post in this forum.