Coventry Telegraph Article 6 Season 2011/12 (Extended Remix)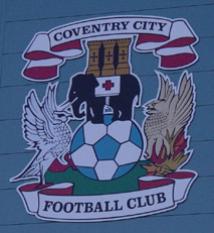 By CovSid67
February 23 2012
According to some Coventry City are in a 'relegation dog-fight'....
Sadly, I don't think we are, as the latter word would suggest the players are giving their all, and said quality was massively absent against Nottingham Forest last weekend. Without a massive injection of pride and/or belief, we are down. This is a truly hopeless side, who are capable of far better.
Last weekend we had the chance to do something I did not think possible this season: we finally had the chance to climb out of the bottom three, to the nose-bleed territory that is twenty-first place. Sadly, we blew it, in a game that should have been treated as a cup final by the players.
Somehow they managed to make Garath McCleary, for a few moments at least, look like Lionel Messi....
And, if things continue as they are, when the new season kicks off in August, Coventry City might have swapped places with Stevenage, and be playing a Third Division fixture against Crawley at the Ricoh. How the hell did that (Potentially) happen? It certainly wasn't part of the vision when we left Highfield Road.
I'm bored senseless (Some would say I didn't have far to go) reading comments from players about our intentions of staying up, stating we are too good to go down, etc, because the words are rarely matched by positive displays. And when they occasionally are, the displays are against the better sides.
How can we beat promotion chasing sides such as Leeds and Middlesboro, then lose to Nottingham Forest? (One win in fifteen games). Or snatch defeat from the jaws of victory against a very average Ipswich side? (Who admittedly have now improved, putting a run of wins together we can only dream of).
Three draws and thirteen away defeats from sixteen games played is an absolute disgrace - the only side in the league not to have won away this season - and long before now somebody should have been held accountable. And only seven goals scored away from home too? So bad it's almost laughable.
Carl Baker is said to be mystified by our failings, but those that spend their hard earned money travelling probably aren't. If there is a mental block when we go on our travels, we might as well save the petrol money and not bother turning up (Especially with said fuel set to reach a record high soon).
But apparently it's okay because we usually only lose by the 'odd goal', and somebody who is clearly watching different defeats to most supporters can see 'signs of encouragement'. I was kidding myself to till we lost to Blackpool and Ipswich too. If we survive the drop this season it will be the biggest escape in our history.
I never particularly wanted Bobby Gould to come back and manage us again, but I seem to remember him offering to work for free? With that in mind, we might as well accept his generosity, accept (Almost certain) relegation, and save some money.
The two players that should benefit the most from our dismal season are Nimely and Norwood, as there is no way they will want to fail to make the grade and have to drop down from either Manchester club to this standard of football again.
View a Printer Friendly version of this Story.
Coventry Telegraph Article 6 Season 2011/12 (Extended Remix)
Covcitytilidie (IP Logged)
23/02/2012 17:51
What do you think? You can have your say by posting below.
If you do not already have an account
Click here to Register
.
Sorry, only registered users may post in this forum.