A Deserved Draw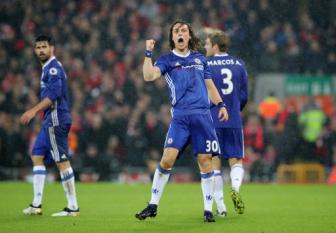 David's goal joy
By Gary Watton
January 31 2017
It was largely a miserable performance from the league leaders, reminiscent of the clinging onto one-nil leads that Chelsea used to practise under our Portuguese ex-wife. This time, this dubious strategy didn't quite work out, as the hosts battled back in the second half to achieve a deserved draw. Of course, the visitors then finished strongly, courtesy of the addition of Fabregas and his compatriot Pedro to the attacking ranks, but no winner was forthcoming. Blame could easily be directed at Costa for tamely missing a penalty, when he really should have put his foot through the ball, but he has been so invaluable this season that he can be excused this aberration.
Ultimately, it proved to be a good night for the Premiership favourites (and their opponents) as the terrible twins of norf London misfired against humble Sunderland and Watford. For Chelsea to emerge from Shamfield, after a mediocre performance, and find their lead at the top of the tree has been extended, was certainly a positive outcome. It appears to be further evidence that the five wannabes in the chasing pack remain liable to drop more points than Chelsea, leaving them with little or no hope of overtaking the pacesetters.
Now it is onwards and upwards against a chastened Arsenic on Saturday, when they will be seeking a reaction after their nul points at home to Watford. I fear an ambush may take place, but Chelsea are nothing if not resilient, and even another draw wouldn't be the end of the world. That said, it would be even better to take maximum points, as it would truly deliver a knockout punch to Arsenil's fading hopes of Premiership success this year.
Liverpool 1 CHELSEA 1; half time: 0-1
CHELSEA goal scorer: Luiz
CHELSEA team: Courtois; Azpilicueta; Luiz; Kante; Matic; Cahill; Alonso; Moses; Costa; Hazard; Willian. Used substitutes: Pedro; Fabregas; Batshuayi
CHELSEA leading scorers:
Costa fifteen goals
Hazard nine goals (including two penalties)
Pedro eight goals
Willian six goals
Batshuayi five goals (including one penalty)
Cahill four goals
Moses four goals
Alonso three goals
Fabregas three goals
View a Printer Friendly version of this Story.
Kopites
Chelsea FC (IP Logged)
31/01/2017 19:48
What do you think? You can have your say by posting below.
If you do not already have an account
Click here to Register
.
Sorry, only registered users may post in this forum.