Chelsea Against the World and Barcelona: Match Preview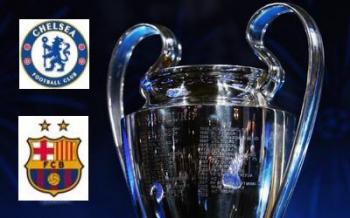 By dixon9
May 6 2009
The Devil of Football FC v The God of Football FC in the Champions League semi-final 2nd leg at Stamford Bridge – or at least that's the match which many would have you believe is to take place tonight. Chelsea have the enormous but not insurmountable task of sending Barcelona, "More than just a club", back to Catalonia with their tails between their legs.
The usual controversy raged after the latest Barcelona/Chelsea match; the referee was biased in our favour, we didn't let them play…and it's not fair…and Chelsea anti-football etc etc.

Madrid massacre and the neutrals

Then, at the weekend, Barcelona ripped Real Madrid to shreds with consummate ease and inflicted upon them what many of their fans said is the most painful defeat in their history. The sycophantic neutrals who have transformed themselves into JCL Barcelona fans went immediately into overdrive - to listen to them you could be forgiven for thinking Chelsea shouldn't even have the temerity to turn up tonight and dare to try and prevent Barcelona's divine and righteous path to European glory.

There's not much I will say to address specific issues but… (actually, that's a lie – I am going to say quite a bit!); Yes, we did defend extremely solidly last week at the Nou Camp and yes, we did demonstrate a lack of enthusiasm to press forward - but then tactics and strategy do have a place in European football over two legs. One could even argue that another string to our bow was in evidence - resolute and effective defending under great pressure.

Hiddink obviously has a plan and it's his job to provide the best framework possible for us to progress to the final – NOT pander to the neutrals (who aren't actually neutral anyway – most of them despise us) who have decided it's football's job to provide them with goals, somersaults and back-flips with a twisted pike as they settle down with a bottled beer and a bag of Wotsits in front of the tele after washing the car.

Compare Man Utd´s performance against Barcelona at the Nou Camp last season. They actually "enjoyed" less possession than we did and Rooney ended up almost playing at right-back – but to read the media and listen to the neutrals these little nuggets received a gulf of difference in terms of reaction. Unfortunately, as we are well aware, Chelsea will always get "special treatment".

Barcelona get their man in black
The referee; I got it wrong about the ref in my last preview. I expected him to be heavily in favour of Barcelona – he actually was a very strong ref. He made some mistakes but these errors were in favour of both sides; Ballack could have seen red – as could of Puyol - and Alves should have seen a yellow which would have seen him suspended for tonight's clash. Nevertheless, I am going to put my grassy knoll conspiracy theory hat on again - Barcelona are as effective as playing the game off the pitch as well as on it.
The Catalonian propaganda machine has surprisingly back-fired to some degree in that some quarters of the British media have actually criticised their mewing and whinging, and yes, why not, we could take it as a compliment that their behaviour demonstrates at least a small degree of fear and desperation. Nevertheless UEFA have succumbed by providing a referee that officiated their 5-2 win over Lyon resulting in four yellows and a red for the French side. Ultimately, they have achieved what they set out to do.
Barcelona jigsaw missing pieces

Anyway…

So how do we try and win this game tonight? That's something which Hiddink himself has admitted to losing sleep over.

Barcelona have obvious weaknesses. Valdes does an admirable impression of Mr Flappy. Their defence can be porous, has a tendency to be poorly positioned and at set pieces they seem to use a zonal marking system which is even worse than ours was under Scolari. To aggravate the situation further for them, two of their principle and experienced defenders will be missing tonight – Marquez through injury and Puyol through suspension.

"On Wednesday against Chelsea it will be really difficult to defend all their players on set pieces because they are really strong. We have to defend as a team; that is the only way we can win the game," said Piqué.

"Short of buying a load of step-ladders, there is nothing I can do," mused Pep Guardiola.

What else?

Well Henry could be missing from their left side of attack which again, is an important loss for them.

Anything else? Can't think of anything else to be honest All we have to now do is work out how to get the ball off them so that we may have opportunities to drive our arrows into their Achilles heels.
New Chelsea trident

Fortunately for us, Drogba, Anelka AND EVEN Malouda are in excellent form at the moment. We must drive through their centre (Guus – please play Essien there tonight) and use the vast spaces that Alves tends to leave behind him on their right side – set pieces will not be our only weapons.

I am expecting us to line up with a 4-2-3-1 at the beginning but this could well morph into two up front as we did against Fulham, with Anelka, once on the pitch, cutting in more to the centre with Drogba and Malouda staying well wide on the left and getting crosses in at any given opportunity.

Pique looks competent but hopefully the big occasion and a pressuring Drogba will make him wobble. Eric Abidal will probably be moved from full-back to the centre with Sylvinho on the left.

Glorious unpredictability?

Any long-standing Chelsea supporter knows that we are capable of making life difficult for ourselves and any younger Chelsea fan knows that we are perfectly capable of triumphing against the odds.

I really don't know what will happen tonight but I do believe that with a strong referee we could finally shove Barcelona aside in what should be an epic battle.

Yes, we could get beaten – this is one of or if not the most impressive Barcelona side, but as long as it's fair and square with no refereeing favours then fair enough.

We are Chelsea. Almost everything and everyone will be against us tonight. We are alone and have a huge task ahead of us. Then again, who but Chelsea, the eternal pariah, is capable of not just sticking a fly but a huge dung beetle in the modern day UEFA biased football ointment?

Mourinho said that whoever wins tonight will win in the final – I agree with him, but tonight's match could well be our finest hour tonight.

Come on Chelsea!

.

Possible line-up:
View a Printer Friendly version of this Story.
Chelsea Against the World and Barcelona: Match Preview
50 Years Over 100 Years (IP Logged)
06/05/2009 10:32
What do you think? You can have your say by posting below.
If you do not already have an account
Click here to Register
.
Re: Chelsea Against the World and Barcelona: Match Preview
06/05/2009 10:39
superb article dixe,,nearly up to my standards,,
come on barca
Re: Chelsea Against the World and Barcelona: Match Preview
06/05/2009 10:42
---
"It is born out of hypocrisy and fundamental insecurity. There have been two kids on the block for the past 12 years. Suddenly, there is a third and that one is threatening to be more successful than the others and they don't like it." P Kenyon.
Re: Chelsea Against the World and Barcelona: Match Preview
06/05/2009 10:59
Re: Chelsea Against the World and Barcelona: Match Preview
06/05/2009 13:47
COME ON CHELSEA
---
Don't Gamble, Bet Risk Free
Re: Chelsea Against the World and Barcelona: Match Preview
06/05/2009 15:52
hope you have top night 66..
now i no were you sit,,,boom
Re: Chelsea Against the World and Barcelona: Match Preview
06/05/2009 16:45
AND PERSISTENT STANDING IS NOT ALLOWED SINCE 66 SO SIT DOWN!

HOW DARE YOU RUIN THEIR SOCCER MATCHDAY EXPERIENCE!



Edited 1 time(s). Last edit at 2009:05:06:16:50:44 by pk_gunner.
Re: Chelsea Against the World and Barcelona: Match Preview
06/05/2009 17:55
prawnies dont stand.