The Longside Website Donation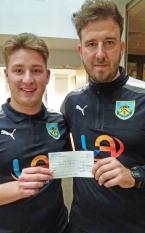 Harry & Lewis
By Foreverclaret
November 16 2017
Moneyboss meets up with representatives of Clarets in the Community.
Our treasurer Moneyboss met up with two representatives of the Clarets In The Community on Wednesday evening, BFC in the Community she very kindly presented a cheque on behalf of The Longside website to Lewis Rimmer who runs the Danny Ings football section (Lewis is on the right of the picture) and Harry Pate one of the coaches (Harry is on the left)
The cheque was for £335.47p which is what was remaining in the now closed Longside bank account, the monies had been accumulated from historical player sponsorship donations, site front page hits earnings and amounts left over from previous social events.
Lewis and Harry were extremely grateful for our donation and promised that the money would be put to good use in the community.