Itís A Job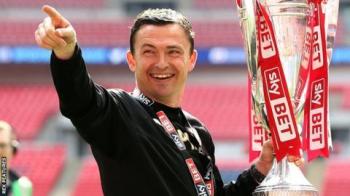 By Red Army
February 16 2018
Now that the dust has settled on Paul Heckingbottom's departure to Leeds and we have a new man in place I'd like to put a bit of perspective in to it and take out the emotion of being a fan of the club.
In all honesty who can blame him for going? Especially if the rumoured wage difference is correct. Even as a Barnsley fan who hates Leeds, surely it's a no brainer both in terms of financial security and career progression.
A lot of Barnsley fans say they if they were in that position that there is no way they would leave Barnsley for Leeds. I say that 90 per cent would and it's easy to say otherwise when you are never going to be put in that position.
Most of us would leave our jobs for only a few quid more a year and it's no different for Hecky whether he's a Barnsley fan or not.
It's a job to him and you've got to take all sentiment out of it. He will have left not only for the money but also because he is an ambitious manager who wants go as far as he can in his career.
Obviously going to Leeds will always bug Barnsley fans just like when Winnall went to Sheffield Wednesday but our hatred and rivalry towards those clubs isn't reciprocated in the same way and we need to just get over it.
As manager of Barnsley what can you really achieve? Do well and get your best players sold and start again. Or do not so well and possibly get relegated and then possibly the sack. That could leave you in the lower leagues for the rest of your career and an opportunity like Leeds could never come again. It came and he had to take it, it was as simple as that.
Some say only a fool would take the Leeds job with the way they go through managers but with the size of the club he has the possibility of taking them to the Premier League and if it doesn't work out and he's sacked, well he has the comfort of that 18 month contract paying off.
Good luck to him I say.
I think as a set of fans we spend too much time worrying about our ex managers and ex-players when the important thing is the current team and staff and we just need to get behind them in this relegation battle we have on our hands.
Three big games coming up against fellow relegation candidates Burton, Birmingham and Hull.
This could define our season and this is where we need all of our fans behind the team and behind the new manager.
View a Printer Friendly version of this Story.
Itís A Job
Tarn Talk (IP Logged)
16/02/2018 12:59
What do you think? You can have your say by posting below.
If you do not already have an account
Click here to Register
.