He's One of Our Own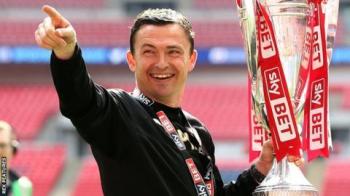 By Red Army
January 11 2018
He's one of our own, he's one of our own, Paul Heckingbottom he's one of our own.
Barnsley boss Paul Heckingbottom maybe one of our own but some fans have now turned on him with a vocal minority on the message boards wanting the Royston man sacked.
Now I for one am firmly in the Hecky IN camp and I didn't really want to write an article on this subject but such is the growing frustration amongst some supporters that I feel the subject needs to be covered.
I am pretty sure that 90 per cent of Barnsley fans are full behind our head coach and realise how hard a job it has been to be Barnsley boss over the last twelve months.
Some others however are now becoming very vocal on message boards and social media saying that the Barnsley boss should be sacked and citing our dreadful record during 2017 as the reason.
For me, these are simply just the modern day fickle football fans that can't see the bigger picture and only look at our poor recent form and obviously that has to be the manager's fault and the solution is to always sack the manager. This part of the modern game frustrates me greatly but I feel it will only get worse in years to come.
We all know we lost all of our best players and again spent the summer signing in large lower league players for peanuts despite all of the money we have made on transfers during the last 18 months.
You could say that the promotion team was the same but they had time to gel as a team playing together in League One and came up full of confidence. These lads were plucked from here, there and everywhere. And whilst most do show potential, how could we expect them to gel together as a team and compete at this level?
Most had not played at this level before, they were all playing with new team mates and let's be honest, they just aren't as good as the previous crop and there was no way they were going to be. It was impossible to keep searching the lower leagues and finding players as good as what we had before. One or two maybe, but a full team? No chance.
The fact that we aren't rock bottom with this squad is a miracle and the fact that we still aren't in the bottom three is an unbelievable achievement. For me, on paper we should be bottom or second bottom at best and the fact that we are not is largely down to our head coach Paul Heckingbottom.
For the vast majority of the season he has had the players playing above and beyond themselves, working their socks off and being competitive against teams much better than ourselves.
We have had a couple of hammerings and a few bad performances but not as many as this squad should have in my opinion. Sometimes the results still haven't come but the effort, determination and the battle to the end has been there for the most part.
Not many other managers could have the reds higher than they currently are and there are many managers that would be doing a lot worse with this squad.
Any fan that can't see the above and just looks at results and where we are in the table needs to take a long hard look at themselves. Of course Hecky has made mistakes this season, like all managers do but for me the positives far outweigh the negatives.
Arguments that the Hecky out brigade have other than just results, form and league position are that he signed the current players and they aren't good enough so he should go.
With our current transfer policy I don't see how that can be a reason to sack the head coach. These players are identified and signed by other people at the club. Hecky would probably say no if he didn't want them, I agree with that. But if they are the best available for the money we are spending then that is just what we have to work with.
Some are signed not necessarily for the here and now. Others are signed to go straight in to the first team but far from the finished article and with the hope that the head coach can improve them and make them Championship quality.
This process doesn't happen over a few weeks, it takes time and that's what some fans need to understand.
One man that causes controversy from both the Hecky in and Hecky out brigade is Brad Potts. I am yet to speak to anyone who rates him as a player or can see what he actually offers to the team.
On this I must agree. I feel that he is too slow, too immobile and gives the ball away far too much. I am not sure he will ever step up and make a Championship player. I would certainly have rather have kept McGeehan or Mowatt and sent Potts out on loan to League One to see if he could cut it there.
He is jumped straight from League Two so I am willing to give him time. I will get behind the lad whenever he is in the team but I do feel that Hecky might have a blind spot to him and that's why fans get frustrated as they see him shoe horned in to the team despite poor performances.
Many fans have been questioning recent team selections but other than Potts being selected and I don't know what else he can do with the squad we have.
The number of changes he makes has been a concern for many fans but when you are losing games and there is little to pick between the players ability wise, then making changes is surely the only option?
The formation is also a big discussion. Fans say 'Bradshaw can't play up front on his own but we need five in midfield because we're too lightweight otherwise. 'Thiam is more suited to a lone striker role but only Bradshaw scores. The guy just can't win with some fans.
Thiam being substituted the other week when we were 1 – 0 down was greeted by boos from the majority of the crowd. I didn't boo myself but I thought at the time it was a poor decision.
The game finished 1 – 1 so you would have to say the manger made the right decision whether you agreed with it at the time or not. Still he was slated for it on message boards and social media, that's just barmy.
For the Hecky out brigade, I would say be careful what you wish for. What if they sack him and bring in Zola?
For me there should be no debate about it, he shouldn't even be sacked if we do end up going down. That is still a distinct possibility. A lot depends on who we can sign in this transfer window.
Just because we have funds available doesn't necessarily mean we will be able to bring in the players we need to survive. Hopefully we can but either way this team and manager have my full support.
COYR
View a Printer Friendly version of this Story.
He's One of Our Own
Tarn Talk (IP Logged)
11/01/2018 12:13
What do you think? You can have your say by posting below.
If you do not already have an account
Click here to Register
.