Arsenal Who Is To Blame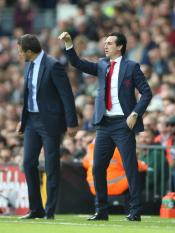 By Shane
December 30 2018
The following post was made on the 28 December a full day before the game at Liverpool. The resulting 5-1 defeat made it even more relevant, and many Arsenal fans are now discussing the issue:
Obviously the quality of the Arsenal squad is being called into question at the moment, but whose fault is it? Does the blame lie with Arsene Wenger for leaving a modest, unbalanced squad, or our recruitment people for not improving it over a three-month period?

Obviously that isn't enough time to build a title-winning squad, but surely it's enough time to lay the foundations for improvement. Have they?

Did we have to release Cazorla, who has been fit all season? Did we badly need a new goalkeeper and did we need to spend so much money on signing one? Nothing I've seen from Leno indicates he's much better than Ospina, never mind Cech who I think we could've got one mroe season out of. Why did we sign cover for Bellerin instead of someone to bench him, considering that Bellerin himself isn't good enough? This literally might be his last-ever season as a footballer. He was such a poor, short-sighted signing.

I'm undecided on Sokratis. He's sort of like Koscielny in the sense that he's either magnificent or a complete bombscare of a centre-back. And although Guendouzi is a prospect, he's raw, a bit mental and probably shouldn't be as close to the first XI as he presently is.

Torreira is the only unqualified success of the lot if we're honest. The rest, not including Lichtsteiner, might prove to be great signings, but at the moment 80% of our summer additions have either made no difference at all, or their impact is slight at best.

The truth is that we wouldn't be talking about the quality of the squad that Wenger left behind had the likes of Sanlehhi and Mislintat - both of whom have been at Arsenal for over a year by the way, so it's not as if they arrived in June like Emery and had very little time to prepare for the window - recruited better.
Or Wenger?

Wenger could've left a better, more balanced squad, but we can't deflect attention away from what seems to be a disappointing summer transfer window and one that Sanlehhi, Mislintat - and potentially Emery, because it's uncertain how much of a say he has in transfers - presided over.
The discussion follows on here