Emerian Football took off at Craven Cottage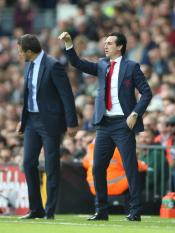 By Merlion
October 17 2018
"Part 2 – Emerian Football took off at Craven Cottage"
Both Emerian Football and WengerBall follow these two principles of Rinus Michels' Total Football:
The main aim of the attacking pressure football, the 'hunt', was: regaining possession as soon as possible after the ball was lost on the opponents' half during an attack. The 'trapping' of the opponents in their own half is only then possible when all the lines are pushed up and play close together. This automatically means that you give away a lot of space on your own half and you are vulnerable for counter-attacks.

An absolute prerequisite, to master such a team tactical aspect, is that all the players possess a positive mentality, including the substitutes. It is a collective assignment.
Unai Emery knew that he cannot made wholesale changes without sacrificing continuity and cohesion, mandatory to challenge for silverware in his debutant season. But Arsene Wenger has left behind a solid core of senior players, technically gifted and skilled, and gifted youngsters for Emery to build upon, to develop and to impose his brand of high-tempo, high-pressing and possession-based Emerian Football.
Emery knew that he must fix a demoralised squad who were lacking motivation and aimless for the last two seasons and needed a quick fix to boost morale and to give them a mission which I can only speculated as follows:
He urged his squad to see the big picture that everyone has a role in a team, and because this role changes many times during one career, we need to adapt to different roles all the time.

Have the desire to improve. If we stop moving forward, we will drift backwards.

Be hungry to learn. Learning is an evolutionary necessity that comes with a child's curiosity and enthusiasm.
Emery had ploughed the fallowed field in July and August, sown the seeds in September and saw the first shoot of the germinated seeds in October at Craven Cottage. Bernd Leno is the new generation of goalie-sweeper, comfortable with the ball at his foot and passing or throwing out of defence to his team-mate. This is possession football, with the goalie-keeper setting up a swift counter-attack, and if no option is available, patiently passing back and forth to retain possession to look for a forward passing option to set up play.
That 3rd goal by Aaron Ramsey captured the essence of Emerian Football: retaining possession, setup high-tempo counter-attack and decision-making to select the option in setting up and a quick backheel to score. Passes received and goals scored by both Lacazette and Aubameyang are the result of tactical awareness by a well-drilled team who knew when to move into space to anticipate passes and individual technical skill to make half a yard of space and a split-second clear sight to goal to shoot and scored.
An analysis of Emery's current successes owns a great deal to Arsene Wenger in leaving him a squad of marquee players, which only needed a firm and success-driven manager to match their ambition to win silverwares, rejuvenate them with tactics suited to them, to weld a squad of unhappy players into one that play for each other, and not some airy-fairy "Beautiful Football" concept where winning is secondary to aesthetics. In a sense, a major disruptive element like Alexis Sanchez has gone.
Emery got lucky again with his Dortmund Spine in Aubameyang-Mkhitaryan-Sokratis which will provide leadership and steadiness in the team. A Spine that is just a stop-gap measure till those youngsters are developed and ready to step into the breach next season or the next.
Another advantage in buying all these 30s-year-old marquee players is that all those youngsters are having a mentor and benchmark to aspire during their daily training. One's felt that Arsene Wenger with his draconian "Over-30 one-year contract" policy had made a fatal error in judgement in not evolving the team gradually instead of trying a quantum leap from French Spine to Barca Lite with midget midfielders trying to playagainst the then highly-physically intimidating kick-and-hack English teams who believed Arsenal FC is a soft-touch playing away from home.
Emery bought Sokratis for his leadership and organisational ability to stabilise a porous Back-4.
When a quick Koscielny returns by December (hopefully) and Mavropanos develops into his potential, we will have a solid Back-4 with no more free run into our soft centre. Lately, we defend well as a team during corner kicks with us winning virtually all the high balls and headed out of danger by the likes of Lacazette and Aubameyang and Welbeck!
We got lucky with Guendouzi who took to English Football like duck to water, he is still a work-in-progress under Emery's tutelage. Torreira was bought to provide steel in the middle, to win balls and to anticipate and close down space which none of Arsene Wenger's players have these attributes and why back-4 leaked 51 no. league goals last season. Torreira frees up Xhaka and Ramsey to play higher up the pitch without fear of leaving the Back-4 exposed. We are seeing an improving Xhaka taking command of the centre now.
Bernd Leno is a superb buy, not so much for his ability, but forces Cech to step up his game and we saw a different Cech from last season. Leno is the future and Emerian Football will take off when he is No. 1, launching counter-attack and sweeping through balls into the vacuum between a high-line Back-4 and goalkeeper.
The other aspect is a live-wire Lacazette putting in a defensive shift, pressing instantly the ball-carrier in the opponent half and right up to the middle. Lacazette is aggressive and does not mind putting the boot in when needed to stop a counter-attack. Aubameyang is also putting in a defensive shift when tracking back. His pace something bails the defence out of trouble when they are caught high-up on the pitch.
Emery did a fine job in developing Aubameyang-Lacazette partnership but still work in progress to develop that telegraphic understanding amongst Aubameyang, Lacazette, Ozil, Mkhitaryan, Iwobi and Welbeck. It may take 2 or 3 more seasons like the French Spine from 1998/99 to 2001/02 before Arsene Wenger won his 2nd title with the French Spine.
Mesut Ozil is an enigma. How to fit him into Emerian Football? Ozil is like Zidane in WC1998. Refusing to track-back, poor defensively but the team needed his brilliancy. I believe Emery has yet to resolve this dilemma, especially if Ozil still refuses to put in a defensive shift like he did at Mourinho's Real Madrid.
If Iwobi, Smith-Rowe and Nelson continue to blossom and develop into senior players by December, and ready for a regular start by season end, then Emery will get rid of Ozil during January and latest by August 2019. Either Ozil pulls his weight or may be sold as a luxurious item.
Whither Emerian Football?
One can only hope that we remain unbeaten against bottom 13 teams, winning 22 games and drawing 4 = 72 points.
Against Top-6 teams, one hope we at least maintain last season form with 3 wins and 3 draws = 12 points.
And that we collect 72 + 12 = 84 points, enough to clinch a Top-4 spot.
Unai Emery should look no further than to win a minimum of 25 games to have a successful debutant season.
Part 1 see first story link below