Emery chucks out WengerBall but will try to keep babies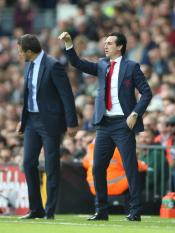 By Merlion
October 15 2018
"Emerian Football chucks out WengerBall but will try to keep the babies"
Part 1
Emerian Football, is all about decision-making and breaks down into its three key elements:
Tactical awareness, which is the ability to take in and interpret information.

Peripheral vision and spatial awareness, which is the ability to play with the head up, actively search and scan to collect information.

Anticipation and pass-and-move, which is the ability to see what is about to happen.
All these three elements are accomplished by daily training in technical skills such as using rondo, intensive tactical drills and with players studying video and data analytics prepared by the coach.
Xavi Hernandez is the master of decision-making. He took no risk and passed the ball back where it came from when he had not scanned and processed the information to pass the ball elsewhere.
'Think quickly, look for spaces. That's what I do: look for spaces. All day,' Xavi told the Guardian in 2011. 'I'm always looking. All day, all day. Here? No. There? No. People who haven't played don't always realise how hard it is. Space, space, space. It's like being on the PlayStation. I think sh*t, the defender's here, play it there. I see space and pass. That's what I do.'
Another example is Andrea Pirlo, aged 35, still playing for Juventus. He looks around, a quick glance here and there before he gets the ball. He knows the ball is coming and is looking elsewhere for the next play. At the point of him receiving the ball, he is not looking at his foot but already looking for the answer, the next move.
The above two examples in decision making – highlight the failure of Arsene Wenger during his entire regime where for all the pundits praising him developing youngsters but yet why was he such a failure in developing youngsters into the senior team? His accomplishments with Henry, Vieira, Ljungberg, Toure, Van Persie, Nasri and Fabregas (all youngsters developed elsewhere) simply hide his failure to develop not even one Hale End Academy graduate into senior players to replace the French Spine or great teams like Ajax 1970s, Fergie Fledgings 1990s and Guardiola Barca 2010s with five to eight academy graduates as the spine of the title-winning team.
Jack Wilshere is gone. Aaron Ramsey never has the spatial awareness to develop into a player as envisaged to replace Fabregas. Senderos, mentally fragile, was destroyed by Drogba and never recovered. The hope is that Calum Chambers will not be destroyed by Monreal. Alex Iwobi and Rob Holding after a bright start, retrogressed under Arsene Wenger. Unai Emery is having success with Iwobi and one can only hope he can develop Rob Holding as well.
Sanllheli commented recently that he wanted the new Arsenal FC to emulate FC Barcelona with at least five academy graduates to form the backbone of future title-winning teams. With more talented youngsters in other age-groups, Unai Emery has inherited a solid squad of Academy graduates and youngsters which is his KPI to develop into a title-winning team within four years.
How many of these youngsters will be the mainstay of Arsenal FC by 2022/23? How many of them possess that intrinsic spatial awareness, peripheral vision and tactical awareness that can be coached by Unai Emery and his coaching team in the art of decision-making, always playing with the head up, 2 or 3 steps ahead of their opponents in anticipation of receiving the pass, a knack for pass-and-move, and spotting passing channels a split-second before opponents realised it?
Alexi Iwobi, Hector Bellerin, Emile Smith-Rowe, Reiss Nelson, Eddie Nketiah, Joe Willock, Ainsley Maitland-Niles, Rob Holding, Chambers, Mavropanos, Guendouzi, Torreira, Bielik, and other 18 to 22 years old youngsters that Mislintat intended to buy in the next two transfer windows.
That is one of the two primary functions of Uani Emery. The next is to develop and rejuvenate the existing senior squads after two years of neglect, satiated players, mercenaries, leaderless and demoralised.
END Part 1
Part 2 see link immediately below

View a Printer Friendly version of this Story.
Emery chucks out WengerBall but will try to keep babies
Arsenal Times (IP Logged)
15/10/2018 18:40
What do you think? You can have your say by posting below.
If you do not already have an account
Click here to Register
.
Edited 1 time(s). Last edit at 2018:10:22:11:00:09 by Padre Pio.
Sorry, only registered users may post in this forum.