What do you think of Emery so far?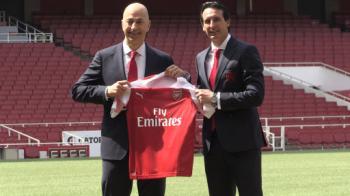 By Arsenal Times
October 9 2018
This particular discussion was posted on Arsenal Times before Arsenal beat the mighty Fulham 5-1 and some fans claimed they had got their Arsenal back. So hopefully the analysis is calmer because of that, but still relevant
BootyDaddy Posted 24 September, 2018 10:31
So what's everyone's opinions so far?

Getting Wenger out was a must, so I'd have settled for a lot less just to finally take that step forward. But I am reasonably happy overall to be honest. It goes without saying it is going to take time for Emery to implement his ideas and get his philosophy across to the players. But I think you can see that slowly but surely it is starting to take shape. His MOTM performance to one side, Cech even looked more comfortable yesterday.

The one thing however that concerns me is that I was expecting to see far more improvements defensively by now. We all knew Wenger couldn't coach a defence to save his life, so for me that was a key area we needed to improve and fast. But the defending is absolutely terrible and there look to be no signs of it getting any better yet. We somehow got away with it again yesterday, but it was school boy defending at best and Cech's saves simply just papered over the cracks.

What Bould is still doing at the club I'll never know, but we have to see improvements defensively soon or we are going to really struggle to progress this season.
One of many replies:
Re: Emery so far
SuperRob (109.145.167.180)
Posted in reply 24 September, 2018 16:42
I think we need to keep some perspective and remember how we were all feeling this time last year (and this time every year for the last 5 or 6 years). And considering Wenger was responsible for transfers as well, we also need to take into account that change as well. Not to mention the completely new coaching staff (including a new goalkeeping coach and medical staff at last!)

One sentiment was that "there is no one who could possibly replace Wenger", "be careful what you wish for", "grass is always greener" etc.

My feeling was that the decline couldn't go on and there were no signs that Wenger would be able to turn things around. And I was prepared to accept a change that would see us get worse in the short term (like Utd under Moyes) so that we could have a chance of getting better in the future.

Turns out we've ended up with a coach who has won 8 trophies in the last 5 seasons, a new head scout who unearthed some of the best players in the world at Dortmund and a director of football who has done some of the biggest transfer deals in the history of football (eg Neymar).

And all that change has happened and as yet we aren't any worse than we were this time last year. After 6 games we're same points as Spurs and 2 points ahead of Utd. Many were predicting a complete collapse as soon as Wenger left which hasn't happened.



So firstly on the pitch. We've ridden our luck defensively at times. We haven't played spectacularly well in any game yet. But we're still managing to win games. We've showed actual character and belief that Wenger spoke about so often but we rarely ever saw in the matches in recent years, especially away from home. We're creating fewer chances than before, but we're converting more of them.

I like that more players are being given a chance, or more accurately that players are less certain that they are automatic starters. There are no outfield players who have played every minute this season and even the most established players have been dropped or subbed at least once.

The performance of certain players seem to be improving slightly even though it's very early to know if these are one off performances. In the last couple of games we've seen much more promising displays from Iwobi, Cech, Bellerin and even Xhaka who were all stagnating badly under Wenger.

I agree I would have liked to have seen more defensive organisation, but it's understandable that this will take a lot of coaching and a couple more changes of personel to get it right (ie getting Mustafi and Xhaka out of the team).

And finally I like that the coach clearly isn't happy with parts of our performances and keeps saying we need to improve, even when we are winning. In basically every interview he has said we need to control the game better and get better balance between attack and defence.

On to the transfer side, I actually think we did decent business in the first transfer window without Wenger for a side not in the Champions league without a man city size budget. Torreira is the star attraction and I think could be the answer to a problem we haven't addressed since Gilberto left the club. Sokratis also looks a decent signing, despite us needing to improve defensively as a whole.

And overall the approach seemed much better. In recent years our strategy has basically been to wait until the end and see who was available. Sometimes it turned out that big players became available like Ozil and Alexis, but more often than not we ended up with players like Squillaci and Andre Santos. This summer we identified players that we needed in specific positions and went and got them early on. Ok so they weren't star names, but they were players we wanted in positions we needed players, which meant that at the start of the season we weren't desperately searching around for anyone who was available at the last minute. I'd much prefer us to sign 3 players for £25 million each summer than hanging around until the end of the window and ending up with 20 flops for every one £50m player we manage to find.