Can Granit Xhaka develop a backbone under Emery ?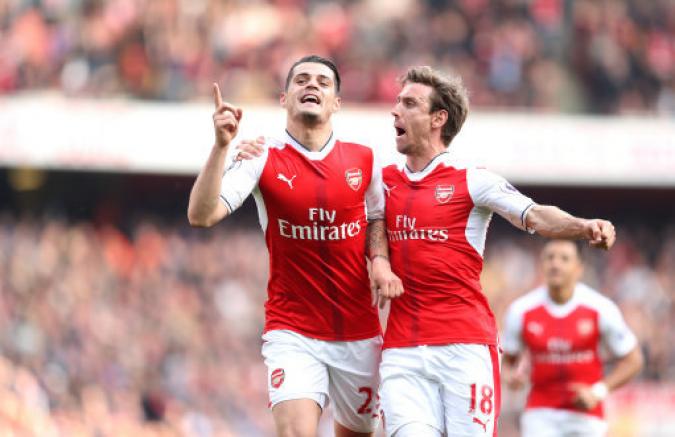 By Shane
August 2 2018
I got a text last month which read, 'You've got Torreira'. I'd had blood tests done a few weeks previous and briefly thought this might've been the doctor giving me a late and blunt update of some sort of disease that they'd found.
But then I started to wake up and recognised the name a little more. Ah yes, the South American sort who Arsenal had been linked to for a while. 'Yeah, great signing pal,' I responded. To this day I haven't seen him play, nor would I recognise him if he walked into my house. The same could be said for pretty much all of our pre-season signings - apart from the young fella who looks like the lovechild of Leo Sayer and a rake.
Yep, I've spent most of the summer on Arsenal media lockdown. I hadn't forgotten about Arsene Wenger's exit, but I had honestly forgotten that we hired Unai Emery.
I was reminded of our new manager a couple of weeks ago whilst watching a film called Prisoners, because there's a character in it who sort of resembles him - the black-haired mad man who dresses mannequins in children's clothing and keeps a lot of snakes locked up in suitcases. Maybe I should've been reminded of Wenger instead, for he spent the final few years of his Arsenal career hoarding and sheltering the spineless, and I'm fascinated to see if one of these players - Granit Xhaka - can develop a backbone under Emery
In keeping with the prison theme, this is a bloke who has repeatedly received Get Out of Jail free cards from Wenger down the years, with zero punishment for the comedy of errors that he has instigated and participated in, and it's really quite interesting to see whether he fights or flies in the post-Wenger era.
Xhaka the Poster Child

To me, he's the poster child of the Arsenal team in Wenger's final years - under-performing, under-punished, and yet completely over-privileged by virtue of the fact that he somehow managed to start 37 of our 38 Premier League matches last season. How and why would he improve when he can tell his manager to "f*ck off" (because he did that, against AC Milan away when Wenger shouted at him for taking a shot late on instead of keeping possession) and still get picked the following week?
But he's about to get a serious jolt to the system under Emery. Not only will there finally be repercussions for playing and acting like a fool, but for the first time in Xhaka's time at Arsenal his place is at risk.
We've signed two central midfielders, which means there is 200% more competition for Xhaka at Arsenal than there was when he left for the World Cup. I know some of the lads in Merlion's piece have suggested that he should have been sold regardless, but why? I'd be all for it if Wenger was still here, because we'd only get more of the same from Xhaka, but this time around we could and certainly should get all of the attributes that were badly missing from his game in previous years - hunger, heart, passion and a greater concentration - because suddenly the incentive is back.
Just Like A New Signing

As I have already touched on, I know next to nothing about our signings aside from their general positions, and not to borrow an old chestnut from Wenger, but I do know Xhaka could be like a new one based on how much the environment has changed at Arsenal since he has last seen it.