Ozil MotM Arsenal v Manchester United: Ratings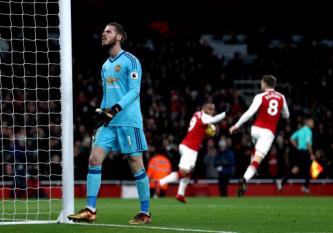 By Matt Sadler
December 3 2017
Saw the best and worst of us here. Some brilliant attacking play, more often than not thwarted by the outstanding David De Gea, and some horrific defending. We battered United today but we were never going to come back after giving them a 2-0 head start, particularly with De Gea in goal. All-in-all, not too disheartened but very frustrated. Concerned about Koscielny, Xhaka and the wing backs though, which, when you throw in the potential costs of replacing Ozil and Alexis, means we could have a long hard summer on our hands.
RATINGS
Cech - 7. Maybe could've done better with Valencia's opener if I'm being fussy but did well otherwise.

Koscielny - 4. Error for the first goal. Bullied by Pogba for the third. I'm embarrassed.
Mustafi - 3. Cost us a goal, then went off injured.
Monreal - 6. Made one great block in the second half and bought the ball out well from the back, but had his hands full when United countered.

Bellerin - 5. Not good enough going forward and left gaps a lot of gaps for United to exploit. One-dimensional.
Xhaka - 5. Struggled without the ball. Poor again, needs dropping, but who's the alternative?
Ramsey - 6. Like Xhaka, not great when United attacked, but caused them problems going forward. Assist for Lacazette's goal.
Kolasinac - 6. Not bad but needs to do more going forward.

Ozil - 8. Worked hard, tried to create and played well in the final third. Very good (he was also AT MotM for the previuos 3 league matches).
Lacazette - 8. Scored, worked hard, looked sharp, and could've had a couple on another day.
Alexis - 5. Good ball to Ramsey for Lacazette's goal but was poor otherwise. Gave the ball away a lot and slowed things down.

Subs:

Iwobi - 7. Did well, particularly in tight areas at the start of the second half, but found himself moved about thereafter.
Welbeck - 6. Okay. Should've had a penalty.
Giroud - 5. Didn't suit what we were doing, and didn't get on the end of any crosses.
More Discussion On Ratings Here