Youngsters impress Vets go backwards Ratings v Norwich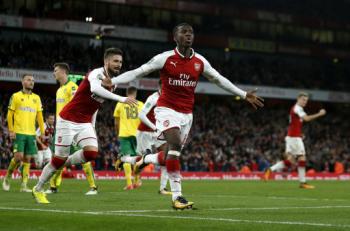 By Hahanice
October 25 2017
Arsenal were by no means the better team. Norwich even played the more attractive football. Too many below average players at this club, and they are taking up time youngsters could be getting. Theo was a huge waste of space.
When he went to wing back we looked 100000x better going forward and about 100x worse in the back. So an 18 year old Nelson playing out of position is a better wing back, and 19 year old Nketia and Akpom are better going forward?
It was getting Theo out of the way that won that game.

I thought the youngsters impressed. They wanted to drive and create. The older players looked like they just wanted to turn and play the ball backwards all night.
Macey:6 - thought he was fine, could have come out sooner for their goal. But not really his fault. Some good stuff in there

Debuchy:7 - thought he was pretty good honestly. Great return performance
Elneny:6 - some good bits in there too. Not a cb but distributed well
Holding:6 - decent from him as well. Thought the defense was good as a whole

Maitland-Niles:6 - ok, just doesn't look comfortable there
Nelson:6 - same as AMN. Maybe a bit better but doesn't look happy there

Jack:7 - he was sloppy but gets an extra point for not going off injured. Tried to drive the team
Coq:5 - thought he was trash honestly. Really sloppy. So limited going forward.

Iwobi:6 - ok, not brilliant not bad
Theo:2 - so bad. Offsides too often, didn't do anything with the ball. Lost possession a ton.
Giroud:5 - got almost no service but also messed up some easy bits in link up play

Nketia:10 - what a performance.
Akpom: 6 - lively
Da Silva:6 - lively
Willock: NA

Wenger:3 - should have lost. Played a ton of people out of position.

More discussion here