Thanks Koln FC, and Player Ratings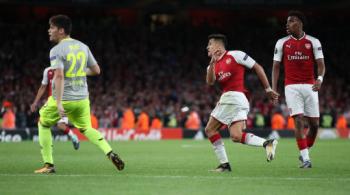 By djarse and Boris
September 15 2017
The last time I remember Arsenal playing Koln (in the then Fairs Cup) was in the 1970-1 double season. We won 2-1 at home, but thankfully they won 1-0 in Germany and Arsenal went out in the early rounds (no group stages). I say thankfully because if Arsenal had gone through to the later stages they may have missed winning the double. As it was Arsenal played 66 games that season with a 16 man squad. There was no luxury of resting 9 players between matches as there is now.
But history never simply repeats itself, this time Koln were playing an Arsenal on the way down, not about to win a double. Unlike the Fairs Cup in 1970 Arsenal fans were not filled with excitement and wonder, but with ennui and grumbling at Thursday night kick offs.
I was expecting the usual snooze fest, but I have to admit I was puzzled that the match was sold out, the reason for this would became clear at about seven pm. As a group of refugees from Vellis (shut for unknown reasons) sheltered in the next nearest cafe, the owner struggled with the difference between orders for sausage, eggs, bacon, chips and beans and eggs, chips, beans and sausage. Eventually confusion was overcome and Simon 68, Noble Trojan, Syd the Cabbie and me finally sat down for breakfast.

As we tucked in news began to emerge of alleged hordes battering their way into the stadium, I had visions of battering rams or tanks whilst her majesty's finest fought back wearing ancient armour. In fact they actually entered with tickets either bought on line or from touts (the modus operandi is still in dispute). On gaining entrance they decided to fight, or perhaps just make their way over to the away end. As everyone knows it delayed the start of the match to 21.05. Two of our numbere decided they couldnt be bothered and went home. Simon68 and myself decided to go in at 8:10 pm.
Reaching my seat at about 8:30 I could see vast swathes of empty seats, but the away end had about 15,000 Koln fans in it, that included the upper tier and corporate seats. It was a bit like the time Lincoln turned up, but no songs about Spitfires, which was fine by me.
What I didn't realise was that about 30 percent of the fans in my block were also Koln fans, but undercover. This became clear when they scored early. The shop must have done well because most of them were wearing Arsenal shirts and scarves. In the upper tier of the home end there were swathes of empty seats, and the Koln fans sang away lustily, but the Arsenal fans did repsond, so it made for a good atmosphere.
In the second half three German fans sitting in front pretended to support Arsenal and had to humilate themselves three times as Arsenal scored. Of course pretending to be so enthusiastic gave the game away, indeed the third one got so fed up he stopped pretending and just sulked after the second Arsenal goal, appalled at his comrades treachery. I didn't have the heart to tell them that their cover was blown, and I saw no reason to call a steward.

I can only speak for myself but I never felt threatened at any time, and it made for an entertaining evening, maybe its not what other people wanted, I can understand that, but its also symptomatic of the modern game, everything controlled from top to bottom by the suits, but for once they lost control.
It does raise questions, but not ones Arsenal FC will ask, like why did some 15,000 Arsenal fans prefer to sell their tickets?
The remaining Arsenal fans mostly stayed until about 10:30pm, but with the game sewn up began to drift out. The diehards reamained until the whistle went a few minutes before 11pm. It was great wandering out into half empty streets, getting a seat on a bus and sailing through light traffic.
Meanwhile local late commuters were puzzled as to why there were more people on the street than usual at 11pm
Thanks Koln, it wasn't as boring as I thought it might be, and I would rather share my seating with you than Spur's fans. Good luck on your return to Europe.
Boris Mellor
DJArse's Ratings follow:
Ospina 5 - responsible for Cologne goal but worse - would have been sent off & conceded a penalty when we were 1-0 down, when he flattened Hector who mercifully had been flagged offside

Bellerin - 7 - extra for the goal, some important speedy runs back to defend

Holding 4 - awful. Rightly taken off at half-time.

Mertesacker - 6 solid leader at back but lack of pace is a constant risk

Monreal - 6.5- fast & dependable but little penetration

Maitland-Niles - 5.5 - poor first half when looked lost as wing back. Better in central midfield for 2nd half with one lovely dribble that nearly led to a great individual goal

Elneny - 6 - endless running - everything went through him in first half but rarely any invention

Walcott - 4 - awful - should have been subbed at half time - being offside 4 or 5 times at this level is unacceptable

Iwobi - 5.5 - disappointing missed opportunity to show he could step up in absence of Ozil

Giroud - 6 - willing & worked hard but should have done better with the chances he had

Sanchez - 7 - mercurial! Poor passes & wasted opportunities showed he was rusty. But a wonderful goal and a constant threat - got through 3 man markers

Subs

Kolasinac -8 transformed the team by constant threat on the left hand side. Great goal lifted whole team and he is almost impossible to get off the ball

Wilshere - 6.5 - nice touches - glimpses of his good old days. Cautiously optimistic about him!

Nelson - n/a why bring him on with just 8 minutes to go ? Needed his invention and direct running at the defence much earlier