Ratings Iwobi MotM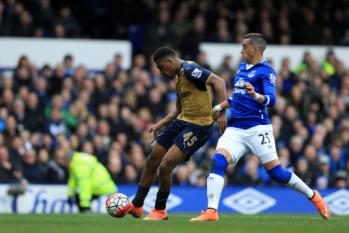 By Matty Sadler
March 20 2016
Sorry it is late lads (and lasses. Ed), I watched the game but had to drive straight home from Bristol afterwards. Having gone out of two competitions in a short space of time, we needed to show character and respond to keep alive our chances of winning the Premier League, however slim they may be.
What a response. In the first half I thought we were excellent. We were organised, worked hard, used the ball very well and maintained a high tempo. We scored two very good goals, dominated possession and didn't allow Everton to play. Of course, this was all helped by the fact that Everton were AWFUL all over the pitch. Second half Everton came at us and tried to put a lot of crosses into the box, but we were professional, defended well and could've scored a couple at the end. I thought we looked very tired towards the end, understandable given our busy schedule. Fingers crossed this will not be another false dawn like the Leicester victory, and we can build on this and push whoever wins this league all of the way!
Ospina - 6. Didn't have a lot to do but did it all without fuss. I was very worried when he got injured but fortunately he was able to carry on.

Bellerin - 8. Played a great ball for Iwobi's goal, got forward to great effect and was solid defensively.
Gabriel - 7. Shaky start but composed himself (somewhat), grew into the game and I thought he put in his best performance for a long while. He dealt with Lukaku very well and made a number of defensive actions. Hopefully he can take confidence from this performance and build on it. He really needs to stop just sticking his leg out though...
Koscielny - 8. Aggressive, read the danger, swept up and had Lukaku in his pocket. Superb.
Monreal - 7. Mr 7/10. Solid defensively, kept Aaron Lennon quiet (a player he has struggled against in the past) and put some good crosses in.

Coquelin - 8. 12 interceptions, 15 ball recoveries and won 100% of his aerial duels. He looked more like the Franny Coquelin we've grown to love. His best performance since his return from injury.
Elneny - 8. Didn't stop running and passed and moved very well. He seems to be settling into our midfield very nicely. He'll be a great signing.

Alexis - 7. Still not at last season's level but a definite improvement. Great through ball for Welbeck's opener. Tried hard but it isn't happening for him at the moment.
Ozil - 7. Very good in the first half, not as influential in the second half. Tired perhaps? he looked it.
Iwobi - 8. Showed great movement, pace, strength and composure for his first goal at senior level. Overall he played very well, but there is room for improvement with some of his decision making. What a talent at 19 though.

Welbeck - 7. Showed coolness in front of goal to finish off an excellent team move well. Great first half I thought, but not really in the game in the second half. Tracked back very well throughout though. I was one of the few advocates of us signing Welbeck on here and I'm glad he is producing the goods. Four goals since his return from injury. Hopefully he'll continue to improve with games.

Subs:

Giroud - 5. Had a good headed goal harshly disallowed and missed a very good chance. Shame as a goal would've done wonders for him.
Gibbs - 5. Helped shore things up down the left.
Chambers - 5. Not on long but a good cameo from our utility man, I thought. I feel he has been harshly treated this season.

A few thoughts:

1) The whole defensive unit was very good, but I thought the Gabriel-Koscielny partnership worked well today and could become a good one over time.
2) Coquelin was excellent and is hopefully back to his best now.
3) Alexis over on the right worked well today.
4) Iwobi was excellent but what does it say about Theo Walcott that a 19 year old was trusted to start ahead of him?
5) Welbz is dat guy!