No Homage To Barcelona*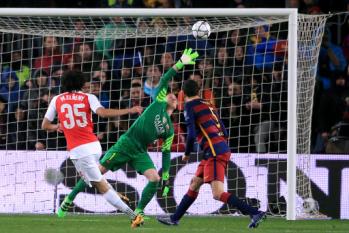 One and only goal
By Boris Mellor
March 18 2016
No Homage To Barcelona* No I am not referring to the delightful and beautiful city of Barcelona and its most gracious population, but the cretin stood bellowing behind me for the first half of the match. However, let's start from the beginning, no not the match, but getting to the match. After all you have all seen, or read about the game. These trips always take great preparation, so armed with two guide books and a digital version, plus hours of surfing the net, I felt prepared for what was ahead.
The main thing I learnt from my research was that Barcelona was (allegedly) the pick pocket and bag stealers center du monde**. Apparently this would all happen before I had even managed to leave the taxi queue at the airport. So armed with several secret pockets and a money belt ,with rug sack firmly tied to waist, I entered the twilight world of Barcelona on the Monday evening.
Suffice to say I arrived unscathed at my delightful hotel in the up and coming area of Raval. Not quite as up and coming as I would have liked, but the ladies of the night and the dealers were not pushy, and it gave me an exciting feeling of being an extra in the Wire. But I would highly recommend it; the cafés and bars were quirky and friendly, and what's more cheap. Two cups of Latte and a croissant for two euros fifty what's not to like.
My hotel was 5 mins from the Boqueria the fantastic food and fish market, and five minutes from the Ramblas, and the Metro on a direct line to the Camp Nou. By Tuesday the rest of the Bank of Friendship Posse had arrived and we were ready to sample the gastronomic delights of Barcelona. I won't bore you with the amazing culinary delights we enjoyed, but I did enjoy the squid and chips at the Universal Kiosk in the Boqueria as much as the Duck Cannelloni at the Taverna au Clinic, yes that's right Clinic! The food was amazing with Anchovies cooked in batter, and included mysterious dishes like things cooked in Lark's spittle, I still don't know what it was.
But enough of this, on Wednesday evening we left our favourite bar and base camp on the Ramblas and took the Metro to the Camp Nou, a journey of about twenty minutes. Our carriage was packed with Slovenian Gunners singing Two nil down and we're having a party, which, of course, was true. As we got off about a mile from the ground the heavens opened up. We discovered it was a long hike around, what appeared to be in the dark, a giant car park, but not as tastefully designed as the one in Get Carter.
The Camp Nou
Eventually we got to the ground, and then after numerous security checks we began the long ascent to the very top of the stadium. There were no lifts, or escalators, but thankfully it wasn't stairs but a never ending windy ramp that appeared to have had less washes than my friendly local beggar. There was no Barcefication, it was a grim poorly designed, crumbling dusty concrete pile.
We got to the top with 45 mins to go, and in spite of the rain decided to go to our sodden seats. A good move as firstly we could see the pitch in the dim distance, albeit through netting, and secondly we had a seat, (not that any one sits down) to stand by. That proved very important as in our block hundreds of Gunners were without seats, and the gangways were full of fans refusing to move, arguing with unhelpful stewards. Meanwhile the rain continued to poor down.
Behind me a Slav of indeterminate origin chanted (at 120 decibels), without stopping once, Pu*ta Barca, Pu*ta Barca, a young lairy Arsenal fan mistook him for a Barca supporter and wanted to knuckle him. We managed to convince him not to, which later I would regret as this monotonous dirge went on and on without pause for breath for over an hour. Meanwhile some fans sang Wenger Out Sack The Board, and others the two nil down song. This was no place for anyone with vertigo.
The match finally started at 20.45 local time, which seems slightly weird. It was not only wet but also very cold for Barca in Spring. The ground was a quarter full, the only full section being where the several thousand Arsenal fans were assembled, and that was, dangerously too full.
The team selection also seemed a bit weird, no Walcott I liked, but no Le Coq! Clearly Wenger had an eye on the Saturday.
"Just like the Emirates" crowed the away fans, which it was but less than half full and no atmosphere at all. Their fans didn't awake until their first goal, I had forgotten they were there. Three nil down and we're having a party sang the away fans. Arsenal were playing reasonably ok, and when Elninny scored a great goal the Arsenal fans went mad, some threw themselves onto the wire netting hanging on like extras crying Free Barabbas. I think some were hoping we could leave with a draw, or even a win, going out of the CL achieving one of the many pointless moral victories that Arsenal has collected over the years.
Of course Suarez put an end to that dream with his wonder goal, and the rain continued to pour down, I don't remember hearing 4-1 down we're having a party, but some might have sung it. Meanwhile the moron behind me kept up his monotonous dirge. The rain was now just a gentle drizzle, and the stadium was about three quarters full, a bit like Lord's where fans wander in and out. Fortunately by halftime the moron behind me had disappeared, something of a mystery I didn't care to solve.
After NSM, how novel scoring in reverse order, had finished with us some Arsenal youngsters, were now singing "he has got cardboard on his head" at an unfortunate Catalan trying to shelter from the downpour a few rows in front. With the final whistle gone the fans headed at speed for the dry of the ramp. Had the team noticed its loyal support? I don't know as no one was bothered to wait and see.
Everyone was in a good mood as we streamed out, we had played some nice football, wasted lots of chances and seen some wonderful goals and hadn't been fully humiliated, that's if 5-1 on aggregate is not humiliation. As Per says we play football and then we lose. As we waited to get out all sang praises to Ozil, and vitriol for Tottenham.
State of CL
But what a sad state the bloated CL is in, many Barca fans had not bothered to attend a tie that decides playing in the quarter final, and Arsenal fans not bothered at losing 5-1.

It took an age to get out as we were kettled out of the ground, under the watchful eye of anti-riot police with loaded revolvers and tasers. No one as much as said boo. The walk to the station was about a mile, and then the long wait for a train began. It was now 11 pm, and the last train was midnight, it was packed in the underground tunnel and many of the turnstile machines were broken. At 11.55 we got the final, far more unbearably crowded than the Northern Line, train back.
Homage
On the Thursday we went on a Homage to Catalonia* guided tour to the once forgotten sites of the Spanish Civil War, based, partly, on George Orwell's book of the same name.
We were reminded by our guide that Hitler had first practised his bombing of civilians on Barcelona in 1938, where nearly as many died as did in the London Blitz.
As we stood by a bomb scarred medieval church where 42 children perished in the crypt and 40 more who came to their aid died in a follow up wave of bombing, we reflected that football didn't even amount to a hill of beans.
We discovered that the reason that there were not even more deaths in Barcelona was that the citizens adapted to tunnel shelters very quickly. Sadly when Franco won the war hundreds of thousands had to flee over the Pyrenees to France. Tens of thousands would die of cold and hunger.
None of this is openly remembered in Barcelona, thousands lie in unmarked graves, but times are changing.
As we waited for our 7.45pm plane home we noticed the last Arsenal stragglers making their way home, still having a party.
**PS no members of our group suffered pick pocketing or bag snatching.