NOW IS OUR TIME Wherever Forever Arsenal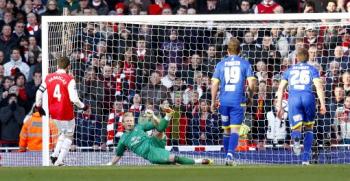 By Boris Mellor
July 22 2013
I attempted to use the football break for clearing up, I say attempted as often or not instead of throwing things away I end up becoming engrossed in the memorabilia. I don't mean programmes back in the thirties, or my precious at Anderlecht away programme, no they are safely archived, but recent smutter, mail shots and the like.
I was just about to throw out my 2009/10 season ticket mailing when my eyes fell on the front cover with its slogan, "NOW IS OUR TIME Wherever Forever Arsenal". On what was this optimism based? The answer came in the image, five to be correct.
On the front cover wearing the new strip for that season, looking mighty and determined into the camera was Fabregas, flanked by Theo and Nasri who were flanked by Adebayor and RVP. Not the greatest line up ever, but at the time not bad, actually it would be better than we had last season by a mile.

It then suddenly occurred to me, no not that only one remains, but the speed at which the other 4 departed. Indeed Adebayor was gone on the 18 th July that year (2009). What numpty in Marketing didn't spot that one coming? I know most fans did, indeed they wanted him gone.
However, it's not the first time that stunt has been pulled, after all they kept on arguing Nasri would stay up to the day he left, I don't suppose they sold many shirts with Nasri on them as most fans detested him by then and they had already bought their season ticket, but they didn't feel the same about his co escapee Fab who left a year earlier.
Wherever Forever Arsenal
Within four season of this particular brainless piece of marketing four out of the five had left. Forever did not apply to them, and wherever certainly doesn't apply to RvP, Ade or Nasri, it might apply to Fab but we will know next year when he leaves Barca. The fifth became involved in a war of wills with the manager over pay, and actually won, but only after missing much of the first half of the season.
If I had dug into my archive I could find hundreds of players that spent a full career at Arsenal, even as recently as Dennis Bergkamp. Rocastle cried when he was told he was leaving. When Charlie George fell out with the manager he went to Derby not Spurs as he didn't want to let down the fans. That was then, not now, and now is why I don't particularly care about the players, and increasingly less excited by the Premiership.
A tip for marketing.
No doubt Marketing are not at all embarrassed by their numerous example of doing what they did in 2009-10, and many fans have the memory of a goldfish, so are not likely to hold them to account. Although that is probably an unfair comment as scientific evidence is beginning to prove fish have far longer memories than we thought, in fact up to 5 months , which is longer than most fans including myself. Indeed I can't remember who scored 3 weeks ago.
Nonetheless to avoid future claims of miss - selling I suggest a new slogan for season ticket sales.
Now is our Time for 4th Place Whenever Whatever.