Ridiculous to the sublime back to the sixties Sign Him Up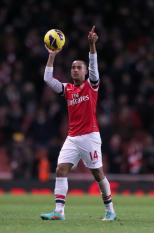 We say hello
By Boris Mellor
December 30 2012
The Bank's Posse Christmas lunch was late this year and there were a few poignant gaps in the seating, one of the gang had died, another seriously ill, and one working, but we put a brave face on it and got stuck in. Tim had cried off, allegedly due to poverty, but I reckon he was down at the Tollington with the blogerati, anyway he missed out as the steaks were better than ever, as were the Pomme Frites Provençale.
After so much good food and wine we agreed it almost seemed a shame to brave the teeming rain to go and see well who knows what you will see these days. It increasingly feels like the mid-60s,* fortunately we decided to press on, a decision we would not regret, unlike a considerable number who had left their seats empty for more pressing matters.
I was expecting a goal fest
How does Mark Lawrenson get paid, or rather why does he get paid? He predicted 2-0 to Arsenal, now I couldn't see Arsenal keeping a clean sheet against the bar codes, and in particular Demba Ba, and I couldn't see Arsenal being restricted to two. So I predicted 3-2, well five is quite a lot, the bloke next to me predicted 3-1, so I was quite smug at 2-2, but I race ahead. I don't suppose anyone predicted 7-3, if they did they must be very rich.
A game of one half
The first half was only notable for two reasons, the first that Walcott scored an excellent goal, and secondly that Demba Ba nearly killed Jack with his free kick. Apparently Wenger is filing his complaint right now. The "nearly killed him" joke was cracked by neighbor as soon as it happened, and it had me in stitches. Of course we were all annoyed about Wilshere's positioning and I was convinced it would not have happened if the BFG had played.
However the half time result of 1-1 meant that nothing had changed since the kick off, true Newcastle probably had more chances than Arsenal, and Theo fluffed a couple of chances, which had one fan yelling "Theo you are useless", which we thought was a bit harsh. I wonder if he feels a bit daft in the light of the result?
Anyhow there was a feeling of discontent at half time that Arsenal had needlessly chucked away a lead. Nobody was expecting what would occur in the second half when the game really got going.
How to lose a lead three times and win 7-3
Only five minutes into the second half the Ox put Arsenal ahead again, but only 9 minutes after that the Tynesiders equalized. Five minutes after that Podolski put Arsenal 3-2 up from a Wilshere cross. Only five minutes later Ba scored the third equalizer for Newcastle, three-three, but the momentum was with Arsenal. The next four goals were all the Gunners without reply, maybe Newcastle were tiring, or Arsenal taking the handbrake off, but now it was wave of attack after attack.
It was glorious too many goals to detail, but my favourite was Theo's third goal and the teams 7th. The is was like the days of Alex James, or Stanley Matthews. No I never saw James play, but I did see Matthews. It was a mazy dribble though a crowded defence, yes they did try and stop him, he even fell over, possibly tripped, but nothing could stop him and he finally poked it into the back of the net.
I bet the bloke who left after 70 minutes, with his son, who I churlishly shouted after, "you will miss the next three!", wishes he had not ignored my powers of prophecy. Though to be honest I wasn't sure they would all be ours at the time.
Sign him up, sign him up sang the crowd en masse, Theo then took the ball round the ground like a trophy, one or two people wondered if it was a farewell lap. Apparently Henry has been coaching him as a centre forward. For those who have been wondering why the delay the answer is simple, you can vote at 18, join the Army at 17, and become a centre forward at 23. You might think its daft, but it's the law, and let's face it Carroll may have benefited if he hadn't of broken it.
Gazidis has got to get the Theo contract signed, or things could get very ugly, Arsenal fans have lost far too many talented players to tolerate losing one more.
*The mid-60s a time when Arsenal could just as easily end up losing 4-3 as winning 4-3, or drawing 4-4 against big teams, before going out of the FA cup to Third Division Peterborough and the manager was sacked after too many empty seats and marches.