Arsenal Times bumper Xmas quiz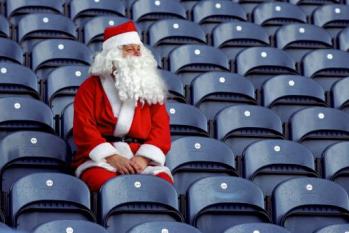 By Celine Dion
December 25 2012
Hi everyone, seasons greetings, and welcome to the 2012 Arsenal Times Christmas quiz. I may have been abroad, but nothing will prevent me from posting up this years installment of brain teasing Arsenal related tedium. There are only 42 questions this year, because that is how many questions it has taken for my family to get extremely p*ssed off.

As usual, its just for fun, I will put the answers up when I can get round to it. Eduardo normally beats me to it in any case.

Train spotter types, please feel free to do your own quiz instead of contacting me with minor quibbles about this one.

cheers, Celine Dion
Xmas Quiz 2012

1) Name 3 players who appeared for both Arsenal and West Ham between 1980 and 1990

2) What connects Arsenals victory over Liverpool in the 1950 FA Cup final and our title clinching victory at Old Trafford in 2002?

3) In the twilight of their careers Paul Davis and Graham Rix both appeared for which lower league London Club?

4) How many Arsenal players has Arsene Wenger sold to Barcelona in total?

5) Arsenal have lost two domestic cup finals to Leeds by the same score line. Which ones? Who were the scorers?

6) When Arsenal lost to Tottenham 3-1 in the FA cup semi final in 1991, who won the other semi final later that afternoon, and by what score line?

7) And when Arsenal beat Tottenham 1-0 two years later, what had been the score in the other semi final the day before?

8) Name three strikers who have played for both Arsenal and Manchester United since 1979

9) Alan Sunderland's winning goal in the 1979 FA Cup final is well known but who had equalised for Manchester United seconds earlier?

10) Name three Arsenal players in the modern era who joined Arsenal straight from Southampton.

11) Winger Jimmy Carter joined the club in 1991 but where from?

12) How many clubs did Dennis Bergkamp play for in total?

13) Who was he named after?

14) The 1991-2 'prison arrow' away strip attracted criticism for its garish yellow and blue design but what colour was the JVC logo on the shirt?

15) How many times did Arsenal contest the Makita tournament?

16) In the 1988 Makita tournament, Arsenal beat Tottenham 4-0, but who did they also play in the same weekend? What was the score?

17) Who scored two goals against Arsenal in a cup final and was then released at the end of that season by his club?

18) Who beat Arsenal by the heaviest margin in the 1971 Double season?

19) Who did Herbert Chapman play for between 1905 and 1907?

20) How many starters in our 1998 cup final side had joined the club from French clubs, and which ones?

21) Arsenal reached the FA cup quarter final in both 1987 and 1988 but which clubs knocked them out at this stage, both home ties.

22) How did the first of these matches finish controversially?

23) What was significant about Emmanuel Adebayor's penalty in last seasons North London derby at the Emirates, from his point of view?

24) What was unique for Alan Smith about his appearance in the 1993 FA Cup final replay?

25) Apart from playing for Arsenal, what links Gilberto Silva and Quincy Owusu Obeye?

26) Which team do Arsenal play in the 1939 film ' The Arsenal Stadium Mystery'

27) Against which club did Kevin Campbell score his first league goal?

28) What scoring distinction do Kevin and Paul Vaessen both share?

29) Gael Clichy shares his name with an area of which city?

30) Whose goal clinched our 1991 title win?

31) When Arsenal played France in a prestigious friendly in the 1988-89 season, what was peculiar about the choice of kit?

32) What is Bacary Sagna's wife called?

33) What colour were the goal stanchions at Highbury pre 1991

34) What colour did they then change to before they were got rid of altogether?

35) When did they get rid of coloured stanchions altogether?

36) Arsenal and Everton were the first two clubs to appear in three consecutive FA cup finals, but what do they also share in terms of their three final appearances?

37) What was John Jensen's rather inappropriate nick name? Why was it inappropriate?

38) The 'I' in the seminal comedy film 'Withnail and I' shares his name with which old Arsenal favourite?

39) Against whom did David Platt score his league debut goal for Arsenal?

40) Armand Traore was once removed from White Hart Lane as a spectator for bringing WHAT with him?

41) After giving up football, Kevin Campbell once signed which jailbird R&B star to his new record label?

42) Which club, (clue, sounds a bit like 'Toulouse') did Arsene Wenger play for between 1973 and 1975?