Best win so far this season? You're alright Jack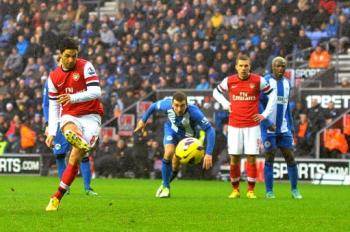 lego man
By Boris Mellor
December 22 2012
When I first spotted the topic heading on my forum that this could have been the best Arsenal win so far this season I did wonder, for a moment, about the sanity of football fans, but then I read on:
"Spurs was great, Liverpool was impressive, Reading was scintillating at times, but this Wigan (game) was just straight out TOUGH.
Once again Wigan went into super - mode, especially in the first 60 minutes, harassing us all over the place. Maybe the win wasn't as impressive as the others, but it was certainly one of the most important wins all season.
We can enjoy Christmas at least." Gunners R Us
We have all heard Wenger's mental strength speech, and wondered what match he had just watched, but today the team were given a good working over and prevailed. Of course there was a large dollop of luck involved here, if Wigan could shoot straight Arsenal may have sank without trace; there again if Walcott hadn't shot straight at the keeper the Gunners would have been ahead without needing a penalty. However, the penalty was brilliantly played for by Theo, who says he hasn't got a football brain?
Wigan actually managed more shots than Arsenal, but most were off target and the defence prevailed, in particular due to the efforts Szczesney and Mertesacker. There was a resilience at set pieces and an effective use of the off-side law. I know I will be shot down by some regulars on here but I do detect Bould's hand here. Maybe Wenger has allowed him more coaching time. They were certainly communicating more on the bench.
The match itself was dour, and Jack was particularly treated badly by the Wigan players and the ref. He was booked for a perfectly good tackle, he got the ball and didn't touch the player first, and it was one footed and low. The ref then went on to ignore a lot of far more nasty fouls against him. He didn't book Maloney until one nasty foul too many a few minutes from time.
Jack was particularly mature not to lose his rag, he kept calm and still managed to keep his edge. Sky gave the Ox man of the match for his second half performance, but I thought Jack was the one player who was consistent for the whole match.

Arteta's a winner

I just love the Lego haired Spaniard, he put in a good shift, but his willingness to step up for the penalty was a testament to mental strength. After Bergkamp missed the penalty against Man U in the FA cup semi he never took a penalty again, so along with smoking, drinking and flying that was another experience he denied himself. Arteta's penalty was well placed, fooling the keeper, and was essential for victory. No wonder the Gunners have won only one league game without him in one and half seasons.
So Arsenal now, surprisingly, stand in third place with 30 points, but the Chavs have two games in hand. Meanwhile Tottenham, Everton and WBA also have 30 points, so goal difference could be all important. It's one game off halfway through the season and a team with only 30 points is third. It might not prove that the league is weaker this year, although I think it does, but it does prove that the top four teams aren't as strong as they used to be.
Charm Offensive
Meanwhile the board continues its charm offensive, giving out £10 food vouchers for the Emirates to the away fans, well deserved. As my nephew wryly commented they should be able to get half a pie with that. I say "continues the charm offensive", as the board provided proper food at the annual supporter's groups' Xmas drinkies. Normally its crisps and olives, but I think it will take more than a few hot sausage rolls to pacify fans unhappy with quite a few issues at present, but three wins in a row probably will help, turn that into ten in a row there could be a lot of happy people about.