Arsenal Times Survey Results Players and Goals of Season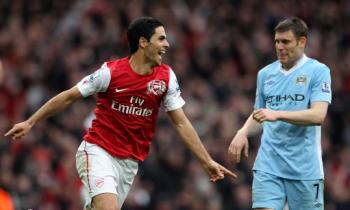 Poznan Moment
By Celine Dion
June 23 2012
Well, I'm sorry it has taken so long to generate this piece of work, but as you know by now, the Arsenal Times Survey is the centrepiece to the football calendar, and the statistical analysis that goes into it takes many weeks if not months of meticulous activity, round the clock, by a specifically hired team of er, statistical analysts. To be truthful the results have taken a long time because I have been sat in my front room watching too much horse racing and drinking Stella Artois.My report is slightly shorter than War and Peace, but of course far more interesting, so it will have to be divided up into seceral section. Nevertheless, without further ado, let us proceed with the results and section 1.
Arsenal Player of the Year
Well, I think we all know the answer here, and there really isn't much to be said. He single handedly carried us through the season, he scored most, if not all of our goals - 'when he wanted' indeed, he set up the ones he didn't score, he probably washed the kit, drove the team bus, and gave Wenger his 'brain pills' as well. To add to his PFA and Football Writers Player of the Year awards, Robin Van Persie has therefore scooped the big one, the Arsenal Times Survey Player of the Year. He would have done an interview for us, probably, but he's been busy appearing in the European Championships.
Arsenal Player of the Year apart from Robin Van Persie
Because I am an intuitive person, I suspected Robin might feature heavily in the main event, in fact he attracted every single vote, so I introduced this sub category, which was a bit more interesting. And a surprising victory for unassuming defensive mastermind Laurent Koscielny, who won just under 50% of the mentions, beating midfield goalscoring sensation Mikel Arteta who got 36%. Alex Song was 3rd, but way behind, with Walcott; neither gathered more that 10% each of your nominations
Arsenal Goal of the Season
First thing to notice here, in comparison with years gone by, was the sheer variation of goals that got a mention. For the last two surveys, there were normally a couple of forerunners, (unfortunately they were largely scored by Samir Nasri), but this year, there are a rich variety of wonderful goals of different shapes and sizes. As Robin Van Persie, for large parts of the season, had been conducting his own private goal of the season competition, I again introduced the sub category excluding his efforts, and indeed Robins' goals do make up the top three. But Arteta got many votes in the main one, something which no doubt he will be very pleased with. Results are
1 Robins magnificent running volley in the 1-0 bore-fest v Everton (29%)
2 Robins improbable 'FIFA2012' side-footed effort in the victory at Anfield (21%)
3 Robins ethereal curler in the 5-2 victory over Spurs (17%)
Goal of the season excluding all Robin Van Persies
It was a dead heat at the top between Arteta's astounding free kick at the end of the Villa game, and his rasping effort to see off Man City, with 26% each. As Flava rather bizarrely stated in his survey response (which is always worth a read, more of that later) – and I am sure he won't mind me using his words here 'That free kick stayed hit fo' shizzle'. Sentimental types voted Henrys winner v Leeds in third, just ahead of Sagna's majestic header against Tottenham. The Vermaelen winner v Newcastle also got mentions, despite being from about 2 yards out.
Arsenal Young Player of the Season
An interesting spread of votes, including one for Ryo Miyachi, who as far as I know, didn't actually play for us. Carl 'Jenko' Jenkinson also got a nomination, in one that had me checking the strength of my drink. Onto the more sensible votes - Coquelin came third, Chesney a close second, but the magnificent OX ran in first place, with a good 45% of votes.
Most Disappointing Arsenal Player of the Season
As you know, I am a positive person, who prefers to concentrate on life's many plusses, but draw upon the negative we must, in order to provide a balance to the collective summary of our season. And romping home in this category is the workshy Russian, strolling around in first place without a care in the world, with about 40% of the vote – Andrey Arshavin. Next comes our absent friend, no doubt reclining casually in an Opium Den as he reads this – Mr Hair Gel himself, Marouane Chamakh. There were several cheeky votes for dome headed shot-shy wing magician Gervinho, who I am afraid therefore comes in third place, and other notable mentions in this category go to Ramsey, and someone I thought might feature more prominently, Korean shirt-shifting sensation Mr Park.
Best Goal Against
Well, rather oddly, a lot of you have become so devoted towards Arsenal that it would apparently upset your delicate sensibilities to recall such dark events as someone putting a ball past Chesney, so despite the many wonderful varieties of goal against us last season, some declined to answer. Of those that voted, a narrow majority preferred Ashley Young's screamer against us in the 8-2 Old Trafford debacle, to the equally scintillating opener for AC Milan by tattooed love machine Kevin Prince Boateng. Mata's long ranger for Chelsea came third. Rather fantastically, Carl Jenkinson's superb lob into his own goal in the pre-season friendly at Cologne also got a mention, which upon reflection should have been given more votes.
End of Section 1
Section 2 will follow tomorrow when your views on exciting topics such as game of the season, and atmosphere of the season will follow.