Transfers: Wenger changing ways to compete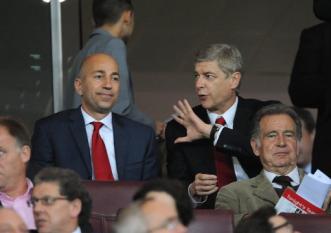 Changing ways?
By Eduardo
May 20 2012
In a week that Chelsea won the Champion's League and Robin van Persie refused to sign a new contract there has been much soul searching amongst Arsenal fan's. Yes Arsenal finished third but when and where is the next trophy coming from if the Gunner's can't afford to keep star players. Can Arsenal get quality players into the squad at affordable prices? The situation is analysed by Arsenal Times regular forum contributor Eduardo, in his conclusion he notes that Wenger is changing the way he will go about his transfer dealings this summer.
I start with an analysis of Arsenal FC's current problems and the solutions I propose to solve these problems.
The problems as I see them are
Self Sustainability
Squad Quality and Size
Motivation and Tactics
Money is God in football
At the outset let me make it clear that I fully support the ethos of self sustainability in football. I applaud Arsenal FC's efforts to run the club within its means. For myself I can say categorically that the views I hold on this have nothing to do with Arsenal's public utterances in recent years on this matter.
I am totally opposed to the way the TV deal is done in Spain with Barca and Real getting such an unfair advantage, I oppose the parachute payments that relegated FAPL get that mean they have an unfair advantage over other Championship clubs, I oppose sugar daddy owners pumping in shed loads of money to gain success for their plaything club (man city's owner did not even turn up last week for their title winning game), I am totally against the obscene wages top flight players now get, in a time when ordinary supporters struggle to pay for match day tickets it's a disgrace to see footballers earn more for a game than most of the fans will earn in ten years. I hate the way agents have become so powerful in the game, how their greed unsettles so many players, and the amount of money they take out of the game.
I fully back the idea of Financial Fair Play, but sadly I just do not see it working, I don't see EUFA having the balls to make it work, and the fact that they are to double the prize money to clubs in the Champions League, for me, is a clear sign that they don't really want to change anything. It's just something that they can point to when critics suggest football has gone money mad.
However, it's clear that self sustainability has hindered us, players have left us for bigger wages, players have turned us down for the same reason, and we have not bid for some players as it became clear the sugar daddy clubs were in for them. So what is the solution?
Is there a solution?
Well there are two ways to go.
If you can't beat them, join them. – Over 90% of AFC shares are owned by two individuals, Stan Kroenke and Alisher Usmanov, both are Billionaires, so nothing stopping SK spending his own money on the club and get us to the top, or we could invite Usmanov on to the board and get both men to dip into their own pockets and spend our way to titles and cups.
Change our model of self sustainability – under the present model we keep outlay on wages to under 60% of income and in fact we are and have been for some time now in the top 4 of spenders on wages. The problem is that we carry over 70 pro players, (this is about 20 more than most other clubs), we pay our top stars less than they could get at other top clubs, and we pay middle rank player and younger players more than they could get elsewhere. So its simple really, make harsher decisions on who will make it or who are needed, sell those that are not required, even at a loss, spread the wages saved on those that deserve the big pay packet more.
Spend some money
The mantra of some whenever any result is not the one we want is spend whatever it takes, those who believe everything is fine as it is will counter with do you want us to go the way of Leeds Utd. Of course there is a middle ground. Our accounts clearly show that we have a massive bank balance. Despite what some suggest with their "money disappearing down the pockets of the owner and board", the fact remains that there is nothing to suggest that any money has gone missing, or that every penny is not accounted for.
We don't have to break the bank to compete or challenge for the league, we just need to spend more of what money we have. Another Vermaelen or Koscielny type £10M defender, even a Sagna or Santos type £6M defender, another Podolski or even Gervinho type £10M attacker, another Arteta or Oxlade-Chamberlain type £10M midfielder signing and our squad would be massively improved and we would still have enough money to make a £25M signing too.
We could actually do this for the next two summers without leaving the cupboard bare. Then in 2014 our new main sponsorship deals kick in and this should at the very least mean an extra £50M each year coming in. The club say Wenger can spend the money, Wenger says he has not been refused money, the accounts show we have the money, the will to spend it is needed. So the solutions are very simple
Wenger stops being such an economist and spends what we can afford

Someone on the Board or the CEO force Wenger to splash the cash
Sort out the defence
The odd thing about this seasons record of 49 FAPL goals conceded is that its not entirely due to the set piece failings we had over the preceding seasons. In fact after Pat Rice took over more of the training on set pieces we halved the amount of goals conceded in that manner. So as we fix one problem it seems we have found new ways to let them in. We can only hope that the promotion of Steve Bould and Neil Banfield to replace the retiring Arsenal legend Pat Rice, will improve out defence in a big way. But for me most of our problems in defence is not actually down to the defenders per say, but is in fact more to do with our tactics. In our title winning sides under Wenger we always had not only more cautious defenders (as in they did not charge forward as much in open play), but we also had two central midfielders who defended a lot too, PV4 and Petit, then PV4 and Gilberto, and of course at one time we had Parlour too who was not averse to helping out in tackling in midfield. Inexplicably in recent years Wenger has mostly stuck to one DM, but maybe he has learnt his lesson as this season once we signed Arteta we went back to two more defence minded midfielders and it improved us a fair bit.
Even more inexplicable in recent years has been Wenger's rigid attacking formation or one up front, with two wide men. It is maddening to see us stick with this formation no matter what the score is, and even more so no matter who the personnel are. God be with the times when we needed a goal and we would end up with four strikers on the pitch interchanging in and around the box, but no one can explain why Wenger now sticks with his one striker spearheading the attack, he would bring on Bendtner but stick him out on the wing, or bring on Chamakh and instead of putting two up front, RVP would be moved into a deep role. We can only hope that Podolski has been signed so that we can, when we want, go with two up front or even four up front when goals are needed.
Wenger's hierarchy of selection
We may have signed the solution in Podolski, but we won't know if this is the case until we see if Wenger is actually prepared to alter formation for different oppositions and different situations. Over recent seasons we have had major problems coping when injuries and or suspensions hit us. This is mainly due to two things –
1. A lack of experienced quality players who can step up when others missing.
2. Wenger's hierarchy of selection
A few more seasoned signings is the solution to problem 1, but problem 2 is harder to fix, as its been evident to a degree in all of Wenger's time at Arsenal. He has always picked his first choice players regardless of their form, even sometimes when they were clearly not fully fit either. Wenger has never got the hang of squad rotation, he does not do one at a time rotation, its either none or six or more. Play the star men till the drop. Lets hope Steve Bould is able to persuade Wenger to introduce a policy of resting one first choice player on a near weekly rota system.
The other glaring weakness over the last season has been our less than ideal attitude against the smaller clubs; we lost to QPR, Wigan, Norwich, Swansea and Blackburn, and we dropped points against Stoke, Bolton, Sunderland and Wolves. In many of these games our player seemed to have an arrogance about them, a real lack of effort and it really looked like they thought they only had to turn up to win. Again we can only hope the changes to the coaching staff will eradicate this particular flaw in our make up. Signing some better players with a better attitude would help too.
Of course another solution to our motivation and tactical problems is to get rid of the manager, he is the one who decides on formation and tactics, he is the one who is supposed to motivate the players, if he can't find a way to motivate them then he has to go, and if he refuses to alter tactics as occasions dictate then he again should be replaced.
Over lapping of problems and solutions
So to sum up much of our problems stem from our own imposed model of self sustainability, much of which is down to the manager (squad wages and squad size), and our tactics and motivation, again down to the manager, the hierarchy of selection, again down to the manager, the players we have in our squad, again down to the manager.
So simply put, either our manager has to change parts of his philosophy or we have to change our manager.
Transfer Targets New way of Working:
For those who do not want Wenger to leave, I can give some hope that he will change some of his ways, most notably in the transfer market, I have it on good authority that Arsenal have contacted five clubs in pursuit of new signings, Ajax, Bilbao, Rennes, Lille and Montpellier.
Bids have been made in some cases; in others just enquiries as to availability and possible fees and in others just lodged an interest.
Arsenal have major interest in two Ajax players - Vertonghen and Eriksen - talks going well for Vertonghen, but Eriksen deal at much earlier stage - all our main scouts have had a look at both of them, our dutch scout goes regular and Rowley of course has been over many times, but Grimandi and Caggio also been sent to have a look a few times.
Yes it's Hazard at Lille and M'Vila at Rennes that interests fans but with City, Utd and Chelsea after Hazard we seem to have little hope of getting him.
There are 3 guys at Montpellier we have scouted extensively (Grimandi watches them almost on a weekly basis for months now), Mapou Yanga-M'biwa, Younnes Belhanda and Oliver Giroud are the guys who he has recommended.
Several of the Bilbao guys have caught Arsenal's attention, Caggio has sent glowing reports on many of their players, most notably Javi Martinez, Susaeta and Muniain - an offer has been made for one of them, I don't know which one or the outcome
I thought it was Goetz that Wenger wanted from Dortmund, but his contract extension has quelled our chances somewhat and maybe reports its Kagawa we are interested is are more to the mark. I'm also told that we have been busy scouting Everton, Blackburn and Fulham games too, with the likely targets Rodwell, Fellini, Hoilett, Dempsey and Dembela and that we are keen on Powell of Crewe
Now it remains to be seen if we meet the valuation set for any of these players, but it is at least encouraging that unlike last summer, Gazidis has been able to get Wenger to provide him with a list of players to work from. That at least is a step in the right direction. It is my view we will sign a few, maybe four of those players mentioned, mainly because the club expressly needs to have a very good season next time out, as by this time next summer we will likely have concluded many of our next long term sponsorship deals, and its vital to the strategy of the club that these deals are in the massive category, and the only way to ensure this is to actually mount a real title push and maybe even win one of the big prizes.