Best of Seasons and Worst of Seasons Second Half Review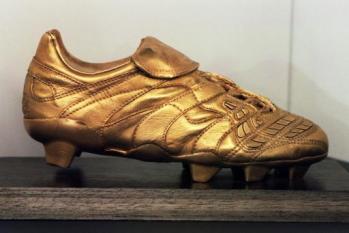 Will we get the boot?
By Eduardo
May 14 2012
January Transfer Window: As usual Arsenal fans were left less than excited by our transfer activity, apart from the clever stunt of loaning in Thierry Henry for a short stint, and the reserve signing of Eisfeld (another one for the future) nothing happened. It's my understanding that we did try to sign Podolski in January, but once he made it clear he would not move mid season due to the Euro Championships, we then signed up TH12 on the short term deal. That was the extent of our dealings, despite Wenger stating that it would be unforgivable if we dropped points due to the lack of fullbacks in our squad (we failed to win any of our first four FAPL games of the New Year) so yes one more thing that Wenger should not be forgiven for.
I'm also told that Gazidis asked AW if he wanted to bid for someone like Baines of Everton, but this was declined as AW felt we only needed a short team loan as cover and would be overloaded once Gibbs and Santos returned. Wenger operates with far too much sentiment for my liking.
January
A month that started off poorly and got worse. First up we collapsed in the last ten minutes at Fulham. Next up a struggle v Leeds in the FAC 3rd round was forgiven as Henry made a hero's return with the winning goal.
Then came another collapse in the league, this time away at Swansea, losing 3-2.
Next up was a home defeat to Man U, having levelled the game, and seemingly on the up, the crowd went mad when AOC was subbed for Arshavin, its hard to know if it was the removing of AOC or the introduction of AA, or the fans booing but whatever it was, the performance level dropped and Utd scored late to make it 3 league defeats on the trot.
It was FAC time again when Aston Villa came calling, and things looked very bad once more when the visitors went 2 up, but a rousing second half saw the Gunnners win 3-2, to the relief of all.
February
The best that can be said of the 0-0 at Bolton is that it at least stopped the run of league defeats.
Then out of nowhere came our biggest win of the season, 7-1 over Blackburn. This was followed up with a fine hard fought come back win at Sunderland, mostly remembered for AA setting up Titi for an injury time winner. But of course there was a big price to pay too, Mertesacker did his ankle on a bog of a pitch and missed the rest of the season.
So the team was in a little bit of good form as the set off to Milan to face AC in the CL, where the excuse of an awful pitch was used to the full as the team got walloped 4-0. It was just another inept performance to add to the growing list of inept performances of this season.
This was followed by defeat in the FAC away to Sunderland, and with it the last chance of a trophy this season. So doom and gloom griped Gooner blogosphere, the England manager elect twitchy Rednaff was next up at the Emirates with his mighty spuds with their title challenging best squad for fifty years and of course their ten point lead. Despite starting brightly woe of woes, spuds took the lead, (mood not helped by the sight of the ref doing a little jig of delight as the ball went into the net) and before you could draw breath spuds went 2 up thanks to a penalty awarded to monkey boy Bale for a blatant dive.
But really for the first time this season we saw something different from the team, the attitude was different, they were just not going to take this from the upstarts from down the road, and the Gunners came roaring back to record a famous 5-2 win, Sagna, RVP, Theo scored the goals that gave the team back its belief, and the crowd back its pride, and more than that, it embarrassed a few spud trolls into hiding.
March
March proved to be one of our best months on the pitch. Come back wins over Liverpool and Newcastle made it four FAPL comeback wins in a row, a new record, these games were either side of the return leg v AC Milan, a 3-0 win was again a case of so close but no cigar, as the damage had been done in the first leg. Wins over Everton and Aston Villa followed, everything was going so well, the team seemed to have got its mojo back, and with the spuds in a tailspin it seemed no one could stop us claiming 3rd and with time to spare. But as we all know Arsenal don't do easy, and all our old failings resurfaced at QPR, a complacent performance got what it deserved, a 2-1 defeat.
April
Next up came title chasing Man City, and despite only winning 1-0 this was one of our best overall performances of the season, totally outplaying a very dull city side. So the QPR result was just a mere blip after all. Wolves were dismissed 3-0 to reinforce this notion, but a very rude awaking was to be had at the hands of Wigan, a 2-1 home defeat that bore all the hallmarks of the defeats at QPR and Fulham etc, the can't be bothered to turn up for the games v the little clubs attitude ran through those performances. Worse still was the season ending injury that robbed us of Arteta, a player without which we did not win a single game until the final game of the season.
Next up was the most boring of boring games, a 0-0 v Chelsea, we were told by most of the media that this was an awful result for Arsenal, well if the Blues do not win the CL then it will in fact be, as many of us said at the time, have been an awful result for them and not us. This bore draw was followed by a more lively 1-1 draw v Satan (stoke).
May
Next up was Norwich, again the old failings v a lesser club was there for all to see, a can't be arsed attitude seen us trail 2-1, lead 3-2 with only a few minutes remaining and messed it up to end up with a silly 3-3 draw.
Then came the final game of the season away to WBA, we could end 3rd, or 4th or even 5th depending on our result and those of spuds and Newcastle. This game encapsulated our entire season, a roller coaster ride, ups and downs, take the lead, go behind, keep at it and prevail in the end, a 3-2 win that owed much to inept defending, thankfully this time from the WBA goalie and not so much our lot. Now did we hear someone say relegation, or was it mind the gap
Overview of Season
Overall the season can be said to have been a real roller coaster ride. We had our worst start to a season in almost sixty years. The ship was steadied with a strong run pre-Christmas. January saw us flop again losing all our FAPL games. Then we hit our best run of form of the season. And just when all seemed to be fine, we spluttered and struggled and almost collapsed before reaching the line. But having said all that after such a horrendous start to the season, finishing 3rd, no matter how we finally got there, shows that we have something we can build on.
It remains to be seen if we add what we need to, so as to never have to go through the like of this season again, and get the sort of squad that can deal with our usual injury crisis, an injury crisis that this season, added to everything else, had such a bearing on results, and led to the January slump and our struggles at the end of the season. Let's hope Steve Bould has more luck in persuading Arsene to stop his hierarchy of selection and to actually rotate his squad properly. It also important that the art of defending is re learnt after conceding 49 goals.