Arsene's worse team for 15yr tops Spurs best team for 50yr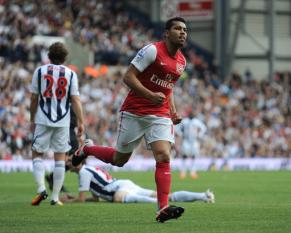 He eats when he wants
By Boris Mellor
May 13 2012
As the whistle went a couple of thousand people stretched between the Royal Ok and Woolwich bars, at the Emirates roared in triumph. Wenger say's third is a trophy, and certainly the diehards at the Hawthorns, and those in the Emirates, would agree with him. They then sang are you watching Tottenham, I hope they didn't mean the match, just watching Arsenal fans gloating.
This was one of the worse displays of defending I have seen from an Arsenal Team since the early 1960s. The back four was all over the place, possibly the fact that Jenkinson and Santos were dragged all over the place explained why the centre backs found it hard to defend effectively.
The attacking wasn't that great either, Gervinho might have five heads but he hasn't got a brain in any of them. Benayoun was probably the best attacking midfielder for Arsenal, but RvP got few real chances. Without Fulop our man of the match we might never have edged it. WBA played very well, a couple of more decisive shots and they could have wrecked Arsene's season.
Thank goodness Santos managed to score, we all sang, "He eats when he wants, Andre Santos eats when he wants". At last the tubbies in the audience have a role model.
This was grim fare that went to wire, it was bodged up job that shouldn't be mistaken for mental strength, or anything like it. It was hard on the nerves, and we kept checking the scores of Newcastle and Tottenham. Thankfully Newcastle had fluffed it, but Tottenham got their lines right, it had to be 3 points or nothing. I have never heard so many bottoms squeaking at a match, and two mates, who couldnt stand the pressure any longer went Walkabout.
Fortunately they didnt miss Gibbs's tackle at the end which was cheered like a goal. Winterburnesque was how Dom described it.

It was great result, and that is all that matters for now, it was good to celebrate that St Totteringham's day had finally arrived, and a definite place in the Champions League had been achieved.Yeah we never had any doubt we all agreed.

No tricky qualifiers, meanwhile Spurs' will have to hope that Bayern can deliver. But anyone who thinks that Arsenal finishing third is evidence that all is well with this team is deluding themselves, and that possibly includes Wenger. Thank Goodness the season is over. There is some work to be done here and 'tis well it were done quickly.
Match Thread and Live Match Blog