Fantastic Spirit, Fantastic Crowd, Awful Referee, Bare Bench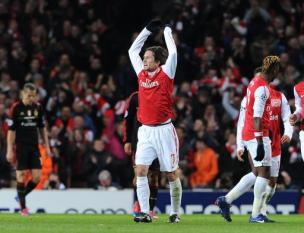 Grandma we Love You
By Boris Mellor
March 7 2012
I wasn't supposed to be at the match I was meant to be at the O2 Arena watching my Nephew's school choir. When I first realised it clashed with the 2nd Leg of the knockout round I was a bit peeved, but then we got beat 4-0 and I thought well it won't be so bad. But as the day approached like all gullible fans I began to believe that perhaps a miracle could happen, and I wouldn't be there.
But there was no way I could pull out, then the omen struck, a phone call from anxious parent, he was having a tantrum and wouldn't go. Oh no! I could go on my own if I liked, rather than waste a £22 ticket for the O2. No not my kind of thing, the only reason for going was to support my nephew, and he wasn't interested, and nor was I.
But, a lot of buts here, I had sold my ticket to a Birmingham fan, however Birmingham were on the Telly and he was half hoping he no longer had to watch Arsenal put out reserves against Milan. So I had got my ticket back. But my electric had failed at 4 am in the morning; the council arrived and said it was the Energy Board's responsibility. The Energy Board turned up and said no it was the council's responsibility. At 3.30pm the contractor finally turned up. But he needed 50 metres of cable, however he managed to get some from a local wholesaler. At 5.15 I was free to go the match, what a stressful day.
I now truly believed it could possibly happen, and Simon68, and Syd the Cabbie were both chipper in the greasy spoon. Syd said he would put money on Arsenal winning 4-0, well you don't get more optimistic than that.
The ground filled up very slowly, it was very cold, and possibly 15% of seats were empty, the cheaper seats were well patronised. Well you have all seen the game, and the crowd was fantastic, booing every Milan player and urging Arsenal on. The Ox delivered a great corner for the first goal. Rosicky got the second, and the Ox won a penalty. The lousy, useless ref didn't want to give it, but the goal line official insisted. A lot of the crowd celebrated as if it was an actual goal, me I was looking for a sofa to hide behind. It was a tense moment, and Van Bommel was being a pain, but RvP was as calm as anything hitting a great penalty. He scores when he wants the crowd crowed, which wasn't really true was it?
Exhaustion
The team went off at half time 3-0 up, surely we were set fair? The strange thing that it was now possible and the nerves now kicked in, before it was a laugh, now it was possible. Stick or twist? At the half time de-briefing Simon68 was sure that the ref would pull one on us. I feared that Milan would sneak a goal. In the second half there was an air of exhaustion about the team and the crowd. Also Milan were dropping like flies, conning free kicks from an idiot ref. It was all stopping the tempo and rhythm of the game.
Arsenal had only one chance of merit in the second half, the much talked about RvP chip, but really that was it. Meanwhile Milan had more and more shots on target, they ended up having more shots than Arsenal. It was very tight and Szczney saved us many times, although he did make an horrific clearance at one stage.

Bare Bench
Something had to be done to restore the tempo, it needed freshening up, so Wenger brought on Chamakh and Park. I bet Milan soiled their shorts when they saw those two come on. You know it's the end when they come on.
It was a glorious failure, and much of the crowd stayed behind, far more than ever stay for the lap of depreciation, and gave the team a standing ovation. The crowd singled out Rosicky for special praise. Those players not flat on their backs responded to the crowd, who then booed off the odious ref. I hope Wenger told him what he really thought of him.
Afterwards Wenger regretted the paucity of his bench, Arteta and Diaby were not available. Now he must be pulling our leg? Who in their right mind expects Diaby to be available? Who got rid of Arshavin, yes a few know it alls will tell me he doesn't tackle back, but he can score in big games in Europe, or perhaps a year ago is too long to remember.
But this is my question to the master of the half measure, which injured first choice players had been injured to necessitate the need to put Chamakh and Park on the bench. Which quality striker was missing that he couldn't use?

I am afraid it's a harsh lesson that you cannot play just one half of football, out of four halves, at this level, and that you need more than 9 good players. I don't count Gervinho. A quality player available to come off the bench may have made history. Instead it was so near but so far.