Arsenal fans celebrate first point of 2012 as team move 7th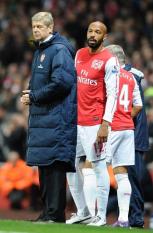 Behind you
By Boris Mellor
February 1 2012
Arsenal fans throughout the world celebrated wildly as their team ground out a hard won 0-0. A jubilant Wenger lauded his team's mental strength, they didn't play with the handbrake on at all, maybe they lacked a little bit steering, and didn't take the corners too well; but not many teams come here and get a point he crowed, in fact Wolves are the only other team to have got a point here.
Wenger looked rather crestfallen when it was pointed out that that Man City, Man U, Norwich, Chelsea, Sunderland, Villa, Norwich and Liverpool had all got three points at Bolton. But yes he replied that proves my point, not many teams get a point up here.
Wenger changed the subject, tonight proved we have enough quality and didn't need to buy in this transfer window, after all when we were struggling for a goal I was able to bring on a player the quality of Rosicky, you could see the panic in the eyes of the Bolton defence when he first ran at them.
My transfer policy has been justified, plus we have another youngster signed who is only 19, we will have the best U19s in the league, and the signing of Henry will not kill him. We may well see a trophy, and by that I don't mean 4th place he said.
Behind you

Asked why he took off Oxlade Chamberlain instead of Walcott he replied he had made more substitutions than journalists had had quality hot pies at football grounds, so he didn't have to answer the question. He refused to answer a question about the quality of hot pies at Bolton, saying he hadn't seen them.
People have made too much of the fact we had no points in 2012 until today, you need to look at things longer term. Yes we only have 1 point out of 12 in 2012, but if you look back over the last 10 games it is 14 points out of 30, and if that doesn't make Harry twitch, then at least the taxman will.
In reply to a question that it now looked unlikely that Arsenal will finish in the top four he replied, I will not talk about that now, you can judge me in May.