The strange thing about Wenger teams whose greedy?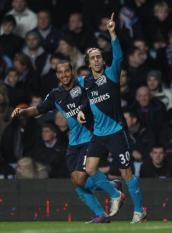 He's 5' 10"
By Boris Mellor
December 22 2011
I am going to depend on my memory here, it could be a bit out, but think back. When did a Wenger team last give two good away performances in a row? When did they last get six points on the trot away? You might remember such an occasion, but it's more the exception than the rule.
Now this isn't a moan, I thought the team played very well against Man City and got nothing, it played not so well against Villa and got 3 points, that's how it goes, a wins a win. Good result not so hot performance, but I don't care, its results that count. Three points out of very two tough fixtures is not bad, but it's not league championship form.
Nonetheless, it still leaves me wondering why Wenger's team can't perform well away in back to back matches. Wenger likes to talk about mental strength, but clearly when up against a tough fixture schedule his teams fall at the 2nd or third hurdle. Remember going out to Man U in Cup, and Chelsea in CL, and then almost blowing league against Liverpool? You could say that proved the opposite, it proved mental strength, but the recovery to win the league was hardly a team effort, it was more due to a solo performance by Thierry Henry.
Wenger has never mastered rotation as well as Ferguson has, but maybe that is due to the fact that Wenger has less resources, once he has to pick a team beyond his first eleven you can expect difficulties. Most Arsenal fans were quite concerned that Song wasn't available at Villa, Arsenal only win 18% of games without him. Frimpong isn't quite the finished article yet. Apart from suspensions and injuries Wenger played the same team he played against City a few days earlier. So tiredness could be a factor, but that is when mental strength comes into it.
Should we expect two high tempo games in a row from the modern highly paid professional? The funny thing is Theo had a better second game than the first, perhaps he benefited from the rest he had at City. It was an excellent run into the box by him that won a clear penalty, and made it possible for RVP to equal Thierry Henry's record. Wouldn't you just love it if he could take Shearer's record as well?

What's the point of all this you ask, I am not entirely sure, but somewhere in the back of my brain its nagging me, why hasn't Wenger managed to put this right? Why can't he overcome it? Is it down to a lack of mental strength and he needs to improve his teams mental durability? Or does it throw a spotlight on the fact that Wenger can build a great first eleven, but doesn't know how to build an in depth squad?
However, I would add that this team did far better than could be expected, they ground out a result even though not on top form, ensuring that all Gunners have a Merry Xmas. I really enjoyed the winner, Yossi Benayoun 5' 10", surrounded by massive defenders, and attackers, with his feet on the ground headed the ball in. Just the sort of thing that usually happens to us at the other end.
Meanwhile the Gunners took part in history by kindly gifting Albrighton the 20,000th premiership goal, only the Arsenal.
Whose Greedy?
Meanwhile Twitter has been full of vile denunciation of the greedy. Is it bankers and millions of pounds bonuses? Is it overpaid footballers, is it £7 million a year managers, or £250,000 a week footballers that are being abused? No its tube drivers who earn £40,000 a year, they are paid in a year what some players earn in a day, for carrying thousands of passengers every day. Doing something highly responsible and useful, with long hours, the greedy good for nothings.
But oh the agony the match has been put back a day, oh what a catastrophe, it justifies calling these people the vilest names under the sun. Yet it was known in advance that most overground railway services inside and outside London would not be working that day. The greedy idiots who run the league programme knew this in advance, they also knew that the strike could be on two months ago, but no abuse for them. No abuse for the greed that sees Arsenal's 3rd Round FA Cup tie on a Monday evening, that's really traditional. I will have to miss that match, will the Twitterati join me in some mass foul abuse of the greedy unmentionables that caused that to happen?
It might also have escaped the attention of the fans who are abusing the tube workers that Boxing Day is a public holiday, it is every ones right to take that day off. If your services are required on that day then compensation is expected. Now the funny thing is that a lot of the fans giving these workers grief are staunch defenders of the business model. Yes Arsenal can put tickets prices up as much as they want it's what the market will bear, if you don't like it don't go. Well the same applies to underground drivers, they can put up the price of their labour on Boxing day, and if the bosses don't like it then they don't have to run trains.
The irony is that the people throwing the abuse will have Boxing day off, just imagine the outrage if they were told they had to work that day.
Merry Christmas one and all, and here's to six points back to back, its at home after all.