Solid and stolid but no cigar as Walcott takes a day off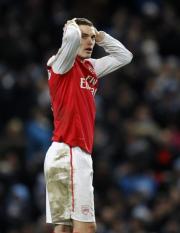 Striker number 2
By Boris Mellor
December 18 2011
Arsenal fans were pleased, or was it relieved, that the team only lost 1-0, clearly a far better performance than the 8-2 defeat at the other Manchester. Before hand some journalists teased Wenger with if Man U beat Arsenal 8-2 and City beat Man U 6-1 then Arsenal were in for a mighty beating. Wenger replied yes we could let in 14 goals, but Arsenal beat Chelsea, who beat City so it doesn't work like that.
A good reply Arsene, and I never expected a drubbing, and I never expected us to win either. Why? Because you can't beat a team like City when you only have one striker, and what is more that striker needs more chances than RvP got today. Unfortunately we have become too Robin reliant.
We could moan about the defence, it was a real mess for the goal, but overall the defence was solid, lesser teams than Arsenal would have conceded a bucket full, and indeed even better teams have let in more. No defence isn't the issue, you don't go to City and not concede, it was the ability to attack that was the problem. This defence is solid, but it's also stolid, if Santos had been available maybe we would have been quicker out of the traps. Most times the build up was too slow, and the crosses too poor. We are missing the speedy overlaps and good crosses.
When Djourou took a blow to his manhood his replacement Miquel struggled to get into the game. Meanwhile watching on TV it was hard to detect what Walcott was doing, if anything, this meant that RvP was less effective. Gervinho had a better game, but his inability to score anything other than a tap in leave us woefully short of sharpness in the final third.
Man City might have scored more but Chesney had an excellent game, unfortunately so did Hart who made two great saves from Vermaelen. Perhaps it's time to put Vermaelen at Centre Forward and Chamakh at centre back.
Yes a creditable performance, but not good enough for league champions and it will be a fight all the way for 4th place. From 15th to 5th is far easier than from 5th to 4th. I like this team, it will beat the teams they should beat, but will find it hard to beat the top teams. Yes they beat the Chavs, and that was great, but they got them at the right time.
The next few months will be a real test of character.