Bangers and Mash New Song and Two Clean Sheets and Rehab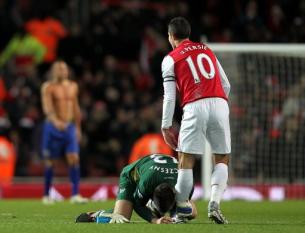 He scores when he wants
By Boris Mellor
December 11 2011
They won't have to worry about attendance soon, the number of statues and brass bands on the way in will more than compensate for Club Level members who can't be bothered to turn up. However, excited fans gathered around Tony Adams and Thierry Henry for Photos as a lone Herbert Chapman looked on. The most common comment about Adams was it didn't look like him, but then he isn't 12 foot tall in real life so that's not surprising.
It only seems like 50 years since we celebrated the 75th, and I was there for that, but apart from the program I don't recall that much fuss being made, but then we hadn't won anything for the last eight years so no one felt like celebrating (It is 50 years you idiot, and we haven't won anything for last seven. Ed. Calm down, I am looking forward to the 150, that's a real Birthday. Boris).
Syd the cabbie and me left the greasy spoon earlier than we normally do as we didn't want to miss the legends, I don't suppose the modern lot will turn up we grumbled, yeah that Henry and Pires won't be there, just be Perry Groves, Radford and Charlie George the usual legends tour lot, don't want to miss it though. And they won't read out Graham's name because he still isn't rehabilitated. Well to cut a long story short we were right about David Dein, he wasn't there, but GG was rehabilitated and no one mentioned the bung, we are such a classy lot.
It was one of those spine tingling ceremonies with no expenses spared, with most of the money spent on a genuine sixpence for the toss up. And to mark the occasion that master tosser Howard Webb presided over the spinning of the hallowed sixpence. The crowd responded warmly, "Fergie's Rent Boy" they sang (I've taken a liberty with continuity there, that happened later, but it did happen).
Meanwhile Everton fans, mostly, stood stony faced through the whole proceedings until Tom Watts recounted the heroic night at Anfield, cue wild cheering from the Toffees. At half time Nottingham Forest presented a bill for £12,768.67p , apparently the kit was only on loan and with compound interest that was the outstanding bill, but Arsenal just gave them a framed shirt, with a certificate that it came from an Official Arsenal gift shop. So after lots of Ian Wright Wright Wright, Oh Bobby Bobby, and Thierry Henry the boring bit kicked off.
Wonder Goal and New Song
With the days of Champagne football over it was back to Bangers and Mash, and I am not complaining, this is a good honest team now, they work for each other, no layabouts need apply. But with seven shots on target to Everton's one it was not a match to remember except for one thing, and that one thing was a glorious Robin van Persie goal. Song broke free of the midfield and his pass to RvP was perfect, without breaking his stride, and with both feet off the ground the Dutchman lashed the ball into the far corner.
A goal worthy of the 125th Anniversary, almost immediately the crowd started singing, "he scores when he wants, he scores when he wants, Robin van Persie he scores when he wants". A goal worthy of every great goal scorer who has ever worn the Arsenal shirt. Up there with Bergkamp at Newcastle and Leicester, Pires at Villa, Henry against Man U, and Charlie George in the 1971 Cup Final, and apart from Bergy they were all there to see it.
A moment of sparkling champagne, and then back to the bangers and mash of stern defending, and stern it was. Last year I would have worried about the team defending a narrow lead, but this lot seem far calmer and resolute. Anyway three points is three points so the Bank posse set off for Xmas dinner in good spirits. Yes Xmas dinner was early as we are not at home again until Boxing Day.
As we did our post match analysis over the steaks and garlic chips we all agreed how privileged we were to be present at such a goal. One of our number used the fact that we are back in fourth place as proof that all Wenger doubters were wrong and are the enemy within; didn't they realise that Wenger refusing to replace his key players until 31 August, and then have the worst start to a season for nearly 50 years was just a cunning plan to expose the doubters?
Someone then pointed out it would be best to judge the season in May, after all that is what Wenger would want, but we all agreed we like this team, they are all toilers, and have just kept two clean sheets in a row, unlike last year's best squad ever.