November Blip Over Cavalry Join Team RvP Striker Problem?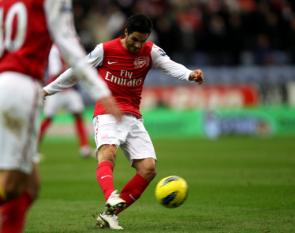 Arteta ain't he better
By Boris Mellor
December 4 2011
This is the shortest November blip in Wenger's history, 19 points out of last 21, the blip being Fulham at home. With the CL group won, and the Carling Cup gone, Wenger's team can rest whilst the big three all have to play a tough CL match midweek.Followed by four goals and a clean sheet at Wigan you have to ask yourself could it be any better? Cruelly the answer is always yes, if only this team had been assembled before the season started, instead of 4 matches into season.
The Bank of Friendship Posse, those who hadn't gone to Wigan, assembled at the home stadium to watch the match on the very big screen in Royal Oak for only £8.00, well I did get a free 250l plastic cup of diet coke included. I must be mellowing as I though the cheeseburger and chip, at £6 were ok. The chips were certainly better than the freedom fries you get at the running dogs of American Imperialism outlets on the high street. There again so are we.
Before the main feature we were treated to Newcastle v Chelsea, the score flattered them, but no doubt the old geezers have a now got second wind, and the barcodes have imploded, probably the curse of Richard Branson. Thank goodness Barton has gone, the thought of him bearing Virgin on his chest would have stretched anyone's credulity. Newcastle hit the woodwork three times, when it must have been easier to put it in the net.
Question Time - No need to worry about lack of strikers
Then just before the main feature Sagna was introduced to us for a Q and A session, and in particular it was time for the munchkins to ask important questions, you know the sort of thing, Cat or Dog, Tea or Coffee, Shower or Bath, Shopping or Lie-in, Fischer or Spassky, Mingus or Bird, Elvis or Springsteen, actually I made those up the young- uns questions were quite good.
What position would Bac really like to play in, striker he replied, and we all cheered, knowing that's just what we need. Just like Arshavin Bac is cruelly forced to play out of position by the wicked Wizard Wenger.
How did the team feel when Fab and lardass moved on?
Bac levelled with us, "our confidence went when Fabregas went", wow that made a change from the usual platitudes, or plongitudes, we get at these events.
What was his greatest moment in football?
"My backpass at Tottenham a few years back", we all cheered, not because of the backpass, but because it reminded us of the times playing at the Lane was an easy three points. Anyway enough Q and A it will probably be on Arsenal.com
The main feature
We then all got restless as we could see the main feature was starting on the side screens, Bac was unceremoniously bundled off the stage, like some Lord Mayor who had overstayed his welcome at the switching on of the Town Centre Christmas lights. The crowd then proceeded to clap the Gary Speed minute of silence, it seemed a bit weird, but the two or three thousand in the Royal Oak always behave as if they are actually at the match, but louder. No one, bar no one, leaves early, though some get up and down for drinks more often than a whores knickers on Piccadilly Station; and they seemed to think it's ok to shoulder charge me every time they went by.
The past weighs like a nightmare on the minds of the living
I have been to several of these screenings and they have all been rubbish, we were 1 nil up at Burnley, Fab got injured – 1-1. We were at Everton 1-0 down on when 90+ minute RvP equalised, I suppose that was a plus. Winning at Villa, we drew and on it goes, anyhow I stopped going as the screenings felt cursed, so we were all feeling apprehensive, especially as the last two away games at Wigan had been thrown away in last five minutes. But I had forgotten Flapianski wasn't playing, and the difference Sir Chesney makes.
I predicted we would gift them an open goal on 6 minutes, I was wrong it was 6 minutes 2 seconds, and they threw the chance away. After that you all know what happened, it was a procession of goals, with RvP not involved in the scoring until it was all over.
I liked Arteta's goal as it broke the Arsenal golden rule, never shoot from outside the box, unless aiming at row Z. Vermalen took his goal tally to three, which is 300% more than Chamakh has scored this season. No wonder Wenger doesn't want to buy a striker for Xmas, after all they are for life, he has got all these defenders queuing up for the job. Maybe Chamakh would be better at centre back, after all Mel Charles was more effective at CB than CF.
Gervinho doesn't have to think
Gervinho wasted several nailed on chances, but RvP provided him with a pass that only required an upgraded tap in, five heads didn't have to think too much about it so in it went. Three goals up and RvP hadn't even scored. I almost began to hope he wouldn't score so that the press couldn't say Arsenal were a one man team, true we only have one striker, but Walcott was determined to put his mate on the score sheet. It was a great run and screw back by Theo, and a great finish by the ever reliant Robin (see what I did there?). RvP threw Walcott over his shoulder like a sack of nutty slack, great celebration. RvP will always be able to get a job as coal merchant when he retires. Amazingly many reports led with the fact that RvP scored, well you don't want to spoil a good story with the fact that three players scored who were not RvP, three man team doesn't have quite the same ring to it as one man team.
So it was game set and match, even Arsenal couldn't throw away a 4 goal margin with 11 men on the pitch. Clattenburg was awful, refusing Ramsey a nailed on penalty, but it shows that if you take your chances and defend well the man in black is irrelevant. Nobody would join me in a chorus of Fergy's rent boy, that's club level for you, but at least I wasn't thrown out.
Immense and important announcement
As we all stood up and cheered to the echo, a solemn announcement was made, one of the Gods had stayed amongst us, us the great unwashed, to watch the game. Yes Bac hadn't scarpered after his light grilling at the beginning. We were told he had been very interested in how we all celebrated the goals. I must say I didn't find the celebrations that unusual, people stood up, raised pint glasses, sang name of scorer or the assister, and sometimes even both, cheered and sat down. But then if you haven't seen that sort of thing before it probably is very interesting.